In her first address since the conclusion of the UN Climate Change Conference (COP24) in Katowice, Poland in December 2018, Executive Secretary of the UN Framework Convention on Climate Change (UNFCCC), Patricia Espinosa, has warned that whilst the meeting was a success, the world remained off course with regard to achieving the goals of the Paris Agreement on Climate Change, and that all parts of society need to get far more engaged to prevent the worst climate impacts.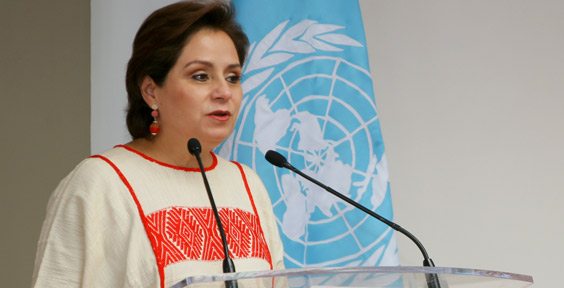 In Katowice, governments finalised the Paris Agreement Work Programme, which operationalises the climate change regime contained in the 2015 Paris Agreement. However, global greenhouse gas emissions continued to grow last year, and the current concentration of carbon dioxide in the atmosphere the highest it has been in three million years.
Speaking on Thursday, January 10, 2019 at the Bauhaus-Universität Weimar in Germany on the topic: "Diplomacy and Participation: Towards Sustainable Solutions in Climate Policy", Espinosa called on non-State actors, including academia, to help governments achieve their climate goals.
"We know governments alone cannot address climate change. We need all segments of society to work as hard as possible to drive specific global climate action.
This includes businesses, investors, private citizens, and, yes, academics, architects, designers and engineers – all parts of society," she said.
Patricia Espinosa reminded the audience that UN Climate Change not only encourages the participation of non-State actors, but actively brings them into the negotiating process.
She said that now that the Paris Agreement Work Programme is in place, the priority for 2019 needs to be to raise ambition to tackle climate change. This can happen at all levels of government and society, not least at the regional and local level:
"Subnational actors, such as states, regions and municipal bodies, need to be involved. They're often the ones who must implement this work on the ground. It's important they also align their policies and programs at the local level. This includes an alignment of regulations as well. They can ensure red tape doesn't get in the way of green progress.
Espinosa also called on people working in professional fields such clean technology, architecture and urban design to step up to the plate and to take ambitious climate action: "There are endless opportunities as well in solar, electric, geothermal – every field related to renewable energy (…) The buildings we make, the products we create, how we consume and dispose of those products, how we design our urban spaces, our homes and living spaces – all directly impact our climate footprint," she said.