Finalists and winners of the African Climate Change and Environmental Reporting Awards (ACCER Awards) will be announced during a live digital event on Tuesday, February 23, 2021 on the sidelines of the UN Environment Assembly (UNEA).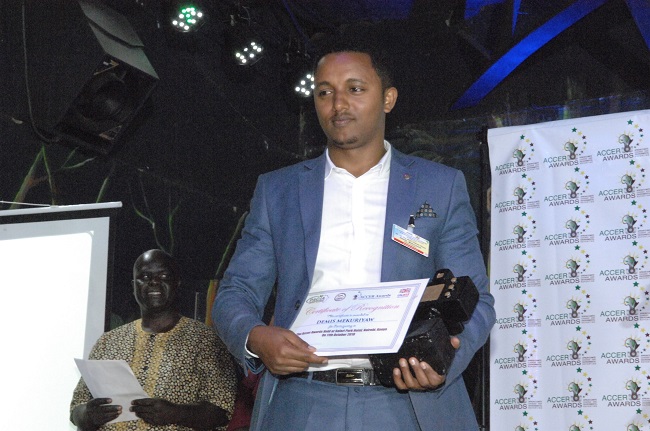 According to the Pan African Climate Justice Alliance (PACJA), organisers of the event, the ceremony will be live on YouTube, Twitter and Facebook or the events landing page www.accerawards.pacja.org.
The ACCER Awards, which amplifies the role of media in climate change adaptation and mitigation, recognises African journalists passionate about conservation since 2012.
Run by PACJA and supported by multiple partners, the Award is in its fifth edition and winners are being announced for the first time through a digital event. According to PACJA, it comes at a time uncertainty abounds regarding climate action in the context of several crises, including the Covid-19 pandemic.
The ACCER Awards 2020 theme is "Making climate action a way of life". Contestants submitted stories that told the climate situation as it is, with so many of them highlighting readily available and easily reachable solutions.
The ACCER Awards initiative recognises that journalists and media networks are important actors in unpacking and building the synergy for crises faced by African countries, which are the most affected by climate change despite being some of the least emitters of Greenhouse Gases (GHG).
The Awards will this year recognise 25 journalists from around the continent, who submitted their work in either English or French.
There were more female winners than male this time, disclosed PACJA in a statement, adding that the journalists were able to illustrate how communities make use of existing legal frameworks to demand climate action from governments and prevent exposure to looming disasters.
PACJA added: "They brought out notable contributions from stakeholders, including the private sector, made in the achievement of environment conservation. Others were able to outline glaring gaps that make Africa most vulnerable, a continent with special needs, and why the developed world must choose to release the necessary funds to address the plights.
"With the ACCER Awards, PACJA hopes to continue to ensure that Africa's climate story is told as it is, highlighting the areas unseen by the rest of the world, and which determines how the intervention is reached. Other objectives of the Awards include motivating journalists and media houses in Africa to effectively cover and report on Climate Change and Environment and illuminating innovative best-practice approaches in Policy and Practice towards response strategies and programmes.
"Also key for PACJA is that the Awards enhance proactive media participation in African Climate Change discourses with a view of perspectives and narratives, sustain and boost coverage of Climate Change issues by journalists in the mainstream media and media networks as well as promote and create awareness about opportunities existing in green investment in the public and private realms."
Interested persons can follow this link to track the virtual event that will be streamed live on PACJA platforms.