Climate change and Covid-19 threaten our future, well that's okay; we were creating a monumental mess and the future looked pretty badly anyway. Humanity is ravaged by a pandemic, a plague, one moving screen through the ranks of men, leaving millions bedridden and taking the lives of millions of others. Another devastating calamity stares us right in the face, either way we are distressed on a global scale.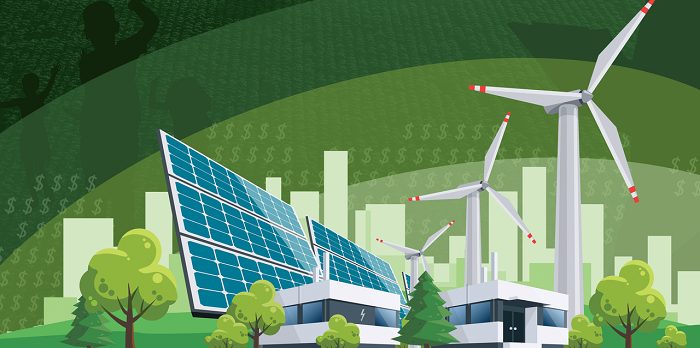 From being forced to stay apart from family, friends, colleagues and strangers. To losing our fellow humans in great numbers, forest fires, landslides, flood, avalanche, etcetera our tired Earth is fighting back and climate change is one heck of a strategy.
We cannot fold our arms until the last of our kind disappears, hence leaders, stakeholders and concerned citizens are pushing for a more sustainable recovery from two unprecedented emergencies, one that is crippling our world and threatening our existence. Everyone is talking about transforming our economy into a sustainable one, and not wavering in our environmental agenda with a climate neutral and resilient recovery plan.
We must then resist the calls to return back to "normal", because normal was our problem. It was one unsustainable economic system, an ecocide based upon environment ripping globalisation. "Normal" created more inequality in our societies, bringing about a less resilient cell damaging food system.
As we all agree to build back better, we must see that coming out of this crisis, we should have overcome the public health issues around Covid-19, as well as other public health issues like the improvement of air quality around our cities, this way 90 per cent of the world won't be at risk of breathing in life threatening air polluted by greenhouse gases.
Addressing issues of energy and poverty should be the focus, investing in innovation and training for low carbon and green job. It is paramount to effectively begin the process of a new and climate considerable industrial revolution hand in hand with nature and embedded in the principles of the green new deal.
Investing in green jobs is a bold solution because they are jobs that help restore the environment. A decarbonised economy is not only going to help halt climate change but bring about economic growth and help create millions of jobs. It is no news that plastic is well on its way to overtaking the inhabitants of the aquatic world, land and air isn't safe from plastic pollution either.
Establishment and maintenance of plastic recycling company in every nook and corner of the world will drastically reduce unemployment to the barest minimum. Production of biogas will make energy cheaper, more durable, and make the environment safer.
Agriculture based on forestry and compost manure will create jobs, from the hire of more hands in a bigger and denser farm to those that will make the compost, more people will be gainfully employed. Research Institute of Organic Agriculture (FIBL) reported that the organic agriculture market is still growing around the world, in many cases in double digit figures. In the United States, the world's largest market, organic food sales increased by 6.4% in 2017, reaching €43,700 million.
According to the International Renewable Energies Agency (IRENA), renewable energies created more than 500,000 new jobs in the world in 2017 an increase of 5.3% with respect to 2016 and it is estimated that the sector now employs more than 10 million people.
The Secretary General of the United Nations has said that governments should not use taxpayer cash to rescue fossil fuel companies and carbon-intensive industries, but should devote economic rescue packages for the coronavirus crisis to businesses that cut greenhouse gas emissions and create green jobs.
"Where taxpayers' money is used to rescue businesses, it must be creating green jobs and sustainable and inclusive growth," said António Guterres, speaking at the Petersberg Climate Dialogue, a virtual meeting on the climate crisis, which concluded on Tuesday. "It must not be bailing out dated, polluting, carbon-intensive industries." Campaigners and experts have been calling for economic rescue packages to be directed towards environmentally sustainable end and for sectoral stimulus cash to come with green strings attached.
The Paris Agreement of December 2015 has in it the framework for immediate actions and long term strategies for preventing catastrophic climate change. Taking steps to eradicate public subsidies for high carbon energy is critical for meeting one of the key goals of the agreement: "making financial flows consistent with a pathway towards low greenhouse gas emissions and climate resilient development".
Ending the world's fossil fuel subsidies would reduce global CO2 emissions by 0.5 to 2.2 gigatonnes (Gt) per year by 2030 a new study have said. Both the G7 and the G20 have pledged to end "inefficient" fossil fuel subsidies the G7 by 2025, and the G20 with no fixed end-date.
Governments and policy makers must bear in mind, the repercussion of climate change before making any policies henceforth. We must make sure that all that we do from manufacturing to trading, communication and energy production will not have an after effect that will leave us all dead or in conditions we will wish for death.
Fixing the environment is not the responsibility of a few policy makers, or a team of activists, it is a collective effort of every living breathing human being. An effort of over seven billion people will amount to over seven million solutions. Building back better requires a collective kind of action.
By Halima Imam, Founder (Climate Action Team), axk4lima@gmail.com