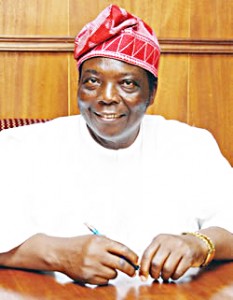 Adeniyi Osuntogun, environmentalist, former Director of the Leadership for Environment & Development (LEAD) in Nigeria and Professor of Agricultural Economics, recently clocked 70 years of age. EnviroNews Nigeria joins in celebrating the icon.
Early Life
I started off as a young boy born by a teacher. My father was a teacher while my mother was a very caring woman and a trader. On retirement, he became a businessman. He was relatively successful by the standard of his time.
My father was a strict person and a disciplinarian. When you're a son of a teacher, nothing less is expected from you in terms of mannerism. My father believed that all his children must be focused. His focus was not to acquire any wealth, but to give his children good education. In life, the greatest gift you can give a child is education. While his colleagues were busy acquiring wealth and buying properties, my father was busy investing in our education. Today, they now know the difference.
I began my childhood education at the Catholic Preparatory Nursery and Primary School in Ibadan, Oyo State, and attended secondary education at Olu-Iwa (now Adeola Odutola) College, Ijebu Ode in 1957. I left there in 1961 and moved to Muslim College, Ijebu Ode for my Higher School Leaving Certificate. I entered University of Ibadan, where I graduated with a Bachelor of Science degree in Economics, from 1964 to1967. After a short span of working in the banking sector, notably the United Bank for Africa (UBA) and Central Bank of Nigeria (CBN), I went to the University of Leeds, United Kingdom, to obtain my Ph.D. degree in Agricultural Economics.  I was also part of the Overseas Development Institute in Nigeria, India and Britain.
When I came back, I was battling within myself whether to go into banking or academic profession. I told my wife even academics was paying less than what the banking sector offers that it pays us to go into academics as it would enable us contribute to national development. I later joined University of Ife now Obafemi Awolowo University as lecturer Grade II in 1972. I rose through the ranks to become a Professor of Agricultural Economics in 1980.  By the grace of God, I became the Vice-Chancellor of the University in January 1990, the position I held till September 1991.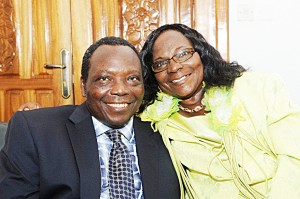 Frankly, I was lucky to have a good wife, Bolanle, who is very understanding, and cooperative. Anything you do in life, there is need for dedication, pain-staking devotion and vision.  One must be focused, work and pray. You face challenges, but never give up. In those days and up till now, academia is relatively disadvantaged in the Nigerian economy in terms of welfarism, things of life; but in terms of knowledge, we have knowledge. But one must not be discouraged by that, always think of what to do with talents God has given you.
Journey into Environmental Education
In 1990, the then Director of Federal Environment Protection Agency (FEPA), Dr. Evans Aina, was looking for an economist, particularly an economist that understands biodiversity and natural resources. He called on me to assist him. So, when Nigeria was preparing for first Rio Summit in June 1992, he appointed me as one of the members of the preparatory team, which will prepare Nigeria's position for the summit in Rio de Janeiro in Brazil. We got it prepared, that's how my journey into the environmental arena began. After that, I did a couple projects and reports for the agency and one of them is on Economics of Biodiversity. The report was highly valued by United Nations Environmental Programme (UNEP). From there on, I became an expert and Biodiversity Economist.
When I left office as a Vice Chancellor, I joined Leadership for Environment and Development (LEAD), the world's largest international non-profit organisation focused on capacity building on leadership and sustainable development, as National Programme Director. I was introduced to LEAD by Chief (Mrs.) Opral Benson through Foundation for Environment Development and Education in Nigeria (FEDEN).  Nigeria was one of the foundation members. My memorable time in LEAD Nigeria was when we produced our first set of fellows. Then, Nigeria didn't enjoy any goodwill internationally, and I brought 15 fellows for the international session, where you have Brazil, India, China, and Indonesia. Nigeria's programme was rated the best of them all. It made me proud.  In those days, LEAD could hardly organise any programme or co-organise event, without taking Nigeria into consideration. During my tenure, we had an average of 15 fellows per Cohort and I graduated 14 Cohorts.
Impact of LEAD Programme
LEAD is a global institution and the mission is to inspire leadership and change for a sustainable world. We believe that people are the key to change and that the complexities of sustainable development can only be tackled by investing in leadership.
The challenges of sustainable development are huge – poverty is deepening, populations are growing, natural resources are diminishing and the international community has failed to tackle climate change effectively.
The only way to begin to address these challenges is through the adaptation of sustainable models of development at the local, regional and global levels. Sustainable development cannot be achieved without leadership. Leaders equipped with skills for sustainable decision making ensure that we are able to meet the needs of the present without compromising the ability of future generations to meet their own needs.
In LEAD Nigeria, we are developing a new generation of outstanding leaders from all sectors, with leadership skills and understanding of sustainable development. Those who came as scientists, when they graduate, can discuss intelligently on social science, physical science, natural science and all areas of human endavours.
How to Improve Environment Education
It is time for tertiary institutions to imbibe all aspects of the LEAD programme that preaches theory and practical works. We ensure graduating fellows look into challenges people face at the grassroots' levels and proffer solutions. This is what is lacking in teaching of education in our tertiary institutions.
When we started in 1992, we were preaching environment; people thought we are just trying to get ourselves occupied. They did not appreciate some of the messages we were putting across, and the implication of environment. That was the same with the Ministry of Environment, which is suffering lack of cooperation and appreciation. Government must now know environment cuts across all sectors and it's a critical thing.
Everyone must tap into the sustainable principles that allow us to use resources, not for us today, must use it in such a way that generation yet unborn will also have access to those resources.
One problem that usually comes up is lack of environmental policy. It is now being put in place. It is very critical, for government to move forward. There must be a policy, and programmes to achieve what has been stated in the policy. The greatest handicap the ministry is facing is funding. The activities of the ministry cut across, and when they are talking about priority, environment is something not easily visualised, unlike roads and industry. Until recently that everybody is facing the problem of floods, desertification, and all forms of environmental health impact, that the government is paying attention to know that the environment is not a theory, it's a reality.