The Oando Foundation of Nigeria, Sumitomo Chemical of China with the technical support of the Nigerian Conservation Foundation (NCF) recently built the capacity of some public primary school teachers in Lagos State on recycling and environmental sustainability at a forum themed: "Upcycling and composting in schools and communities".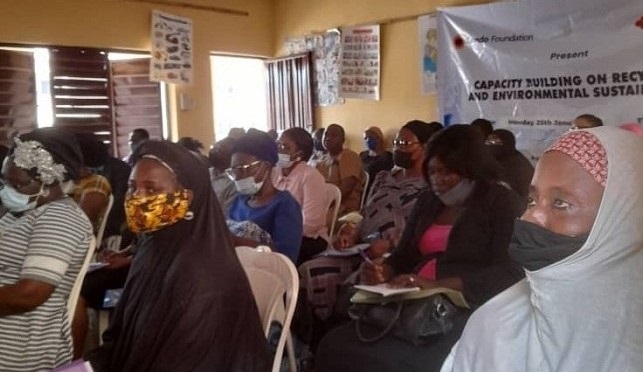 The workshop, held on January 21, 25 and 27, 2021, had 100 participants drawn from Dele Ajomale Primary School, Ilasamaja; Metropolitan Primary School, Orile-Iganmu; and Dada Olisa Primary School, Papa Ajao, Mushin in Lagos. Aside the teachers, other participants were parents and community members.
The organisers consider business of wastes recycling to be a viable means of revenue generation for schools, communities and families. School pupils will in the long run benefit from the knowledge and could join in the campaign drive.
Recycling refers to creative reuse of waste materials in such a way as to create a product of value and quality than the original.
The workshop exposed participants to diverse areas of waste recycling, which include the use of plastic bottles to manufacture furniture materials like mattresses, duvet, chairs and tables.
Knowledge gained at the workshop also include the production of organic fertilizers using plants and animals wastes products such as leaves, saw dust, chicken and rabbit materials and so on.
In her remark, Mrs. Abidemi Balogun, Project Lead at NCF, said the overall objective of the project is to sustainably manage wastes that has become a menace across the world, with a particular focus on Lagos which generates 30,000 metric tons of waste daily.
She explained that, in order for NCF to achieve it vision of "a Nigeria where people prosper while living in harmony with nature", the Foundation has consistently partnered different organizations with similar vision and hoped that this would become another success story at the end of the day.
"The path that we have chosen this time is the path of waste management. It is a menace across the world. So we have to put every resource we have to achieve this. We want to change the mindset of people to stop pollution and know how to manage their wastes properly.
"We need to teach them creative ways of doing this. That is why we are building their capacity, to give them some skills of what they can achieve with plastic bottles and other waste materials. Let them know that the waste is not waste until it is wasted. This is why we are building the capacity of teachers and community members. After this training, the teachers will step down the knowledge gained to their pupils," she added.
The lead facilitator, Mrs. Temitope Okunnu, CEO of FABE International Foundation, an NGO that champions environmental sustainability issues, noted that if the "waste to wealth initiative" is massively adopted by governments across the country, using school children as major target group would help to effectively mitigate the impacts of climate change and tackle hunger and poverty among the Nigerian citizenry.
She emphasised that part of the goal is to stop wastes from ending up at dumpsites. According to her, this is the main reason her NGO, FABE, NCF and others are trying to teach the next generation how to properly dispose their waste materials, and to take advantage of the economic potential in wastes recycling lift millions of Nigerians from poverty at post COVID-19 era.
She explained: "We are trying to mitigate the effects of climate change on the people and the environment, and we believe that children are the best people to learn the skills. So, we are teaching their teachers to be able to step it down to them. All of us just came out of COVID-19 and many parents lost their jobs and sources of livelihood because of the pandemic.
"So we are teaching them today that even though we are trying to mitigate climate change and stopping pollution and also making our environment clean, we can make money from the environmental sustainability projects."
A participant identified as Mr. Adedeji said: "I give glory of God to be chosen as one of the participants. It was very impressive. I was imagining how a plastic can be used to make beautiful furniture pieces without using any nails or hammer. But I learnt that today. It was a wonderful workshop. I am excited."
Another participant, Mrs. Rachael Olaide, said: "Waste, especially plastic bottles, usually block drainage. But now that we have received training, we will teach our children, neighbours and sensitise the schools and parents."
In addition, Mr. Onyebuchi Onwunali, a participant, said: "What we called waste material, we now learnt that it is not waste until it is wasted."
Mr. Oladapo Soneye, Head Communications, NCF, while adding his voice said that NCF is open to partnership with corporate organisations and individuals to expand the training to many schools within and outside Lagos State. He believes that such trainings can help in combatting the environmental challenges in Lagos and beyond.
"If we have more funds, more NGOs and concentrate in reaching out wider, we would be able to effectively deal with some environmental challenges posed by waste. Even in some climes, climate change effect will be mitigated through proper orientation across board," he said.