The Norwegian municipality of Arendal has pledged to become climate neutral, as the first municipality in the world to join the United Nations Climate Neutral Now initiative. This means that it will measure and reduce greenhouse gas emissions to the greatest extent possible, and offset all emissions that cannot be avoided.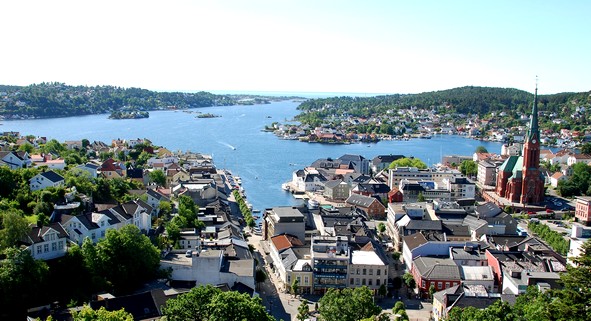 Urban areas represent an estimated 70% of energy-related global greenhouse emissions, and their total population is projected to double by 2050; so municipal climate action is critical for the success of the Paris Climate Change Agreement.
The municipality of Arendal is concerned about the effects of climate change, which range from threats to drinking water and agricultural supplies to sea level rise, and it is working hard to reduce its emissions in line with the central goal of the Paris Agreement.
Under the Paris Agreement, governments have agreed to shift the planet toward a pathway that keeps the maximum global average temperature rise to as close as possible to 1.5 degrees Celsius. A balance, known as "climate neutrality" must be achieved in the second half of this century between global emissions and removals in order to achieve this goal.
Arendal has been a pioneer when it comes to reducing greenhouse gas emissions for some time. The municipality's own operations have been climate neutral since 2008.
Robert Cornels Nordli, Mayor of Arendal, says: "We consider it a natural next step to work towards climate neutrality for the community as a whole. Some of our services are focused on climate, energy, and environment. In addition, Arendal is founded on the industries of shipping, forestry and mining, and tourism. Therefore, an additional contribution we want to make is to inspire other sectors."
Examples of what the Arendal municipality has been doing to become climate neutral so far include the phasing out of all fuel oil consumption for heating purposes, acquiring efficient electric technology, and increasing use of online business meetings to avoid emissions from travel.
To step up work toward climate neutrality, Arendal will work on reducing fossil fuel consumption in transportation, along with increasing the use of biofuels and electric vehicles; and purchasing renewable power to cover emissions from purchased electricity while increasing energy efficiency.
UN Climate Change welcomed Arendal municipality's announcement to go Climate Neutral Now. Niclas Svenningsen, who heads the agency's Climate Neutral Now initiative, said: "It's great that Arendal municipality is moving forward toward becoming climate neutral. Municipalities have an important role within society in promoting action to tackle climate change. We sincerely congratulate Arendal for its efforts and for the goals it has set for the coming years, and at the same time, we encourage other municipalities to follow this initiative."