Norwegian Prime Minister Erna Solberg on Monday (December 7, 2015) in Paris at the ongoing UN climate change conference (COP21) announced plans to scale up Norway's commitments to the Green Climate Fund (GCF).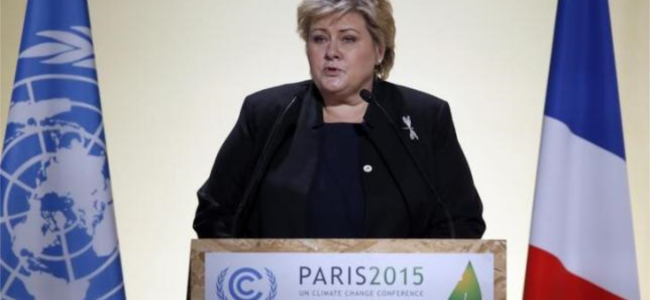 Norway already pledged $258 million to the Fund last year as part of the initial resource mobilisation and has now promised to double that figure by 2020, provided that GCF can finance verified emissions reductions in deforestation and forest degradation.
Speaking at the Paris global climate summit, Prime Minister Solberg stressed the importance of climate finance and Norway's support for the Fund.
"The Green Climate Fund is now ready for business. I am pleased to announce today that Norway will significantly increase its contributions. If the Fund secures verified emission reductions from deforestation and forest degradation in developing countries, we will double our contribution by 2020," she stated.
Børge Brende, the Foreign Minister of Norway, also reinforced his country's support for GCF.
He emphasised the role of the Fund in adaptation projects, stating, "The Green Climate Fund will reduce developing countries' vulnerability to climate change. Investments in adaptation to climate change are investments in development."
GCF opened its initial resource mobilisation in October 2014, rapidly reaching $10 billion equivalent by the end of the year.
The Fund remains open for contributions during its initial resource mobilisation period and accepts them on an ongoing basis.