As the final outcomes of UN Climate Talks in Egypt (COP27) were announced at the break of dawn on Sunday, November 20, 2022, the text paves the way for the continued expansion of fossil fuels and increased climate impacts, says 350.org.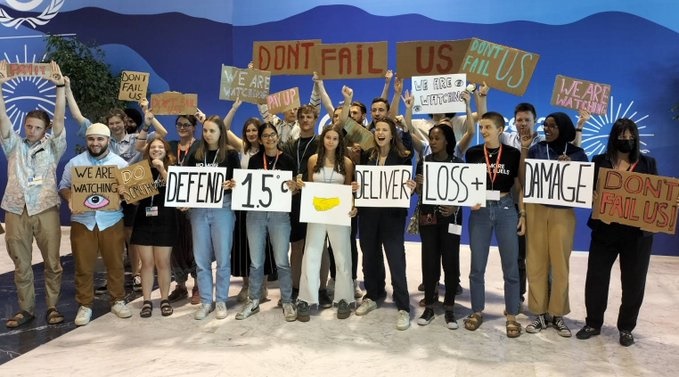 This was supposed to be the "Africa COP", aka: the "implementation COP" but heavily influenced by the fossil fuel industry, the Egyptian Presidency alongside the US, the EU, China, Gulf countries and Japan, and others have failed to deliver.
The final text references the science, the findings of the Intergovernmental Panel on Climate Change (IPCC), and reaffirms the 1.5C target, and includes language on renewable energy and just transitions. However, it goes on to undermine them by failing to include a just and equitable phase out of all fossil fuels.
In a significant breakthrough, rich countries have acknowledged the need for a response fund for loss and damage for developing countries. This is testament to the leadership of impacted countries and civil society, who have stood firm on this critical issue of climate justice. However, the failure of the text to include critical language to phase out of fossil fuels threatens these gains. Continued use of fossil fuels will further fuel climate change and lead to increased losses and damages.
Although the COP saw major coal, oil and gas producers including the EU, UK, US and India, follow the lead of countries like Tuvalu, and endorse the calls to phase out fossil fuels – thanks to civil society at home, and in Sharm El-Sheikh, this ambition was thwarted by the influence of the fossil fuel industry.
There has been progress outside of the UN framework, with countries including Kenya, Fiji, Tuvalu and Chile, showing commitments to a phase out of fossil fuels by becoming friends of the Beyond Oil and Gas Alliance. Further hope comes from Latin America, with Colombia showing leadership and political will in calling for finance for a just energy transition, and with president-elect Luiz Inácio Lula da Silva, Brazil's return to the climate negotiations. Concurrent with the COP talks, the G20 in Bali, Indonesia, recognised the need to rapidly reduce fossil fuel use to meet the 2030 global climate goals.
At this COP, activists from across the world reaffirmed that the climate crisis is a human rights issue.
Working together, Indigenous groups, frontline communities, gender and women's groups, disability networks and human rights activists from across the world, made clear that climate and environmental justice is not possible without social justice. The global climate movement will continue to take a lead: telling stories of resilience, exposing the lies of the fossil fuel industry and fighting for real, just and accessible solutions.
May Boeve, Executive Director, 350.org, said: "There is no time left for incremental change, every fraction of a degree matters. We needed a swift, just and equitable phaseout of fossil fuels, and the COP has, yet again, failed to deliver. The breakthroughs on loss and damage are testament to the incredible work of civil society from the most impacted countries. But without a phase out of fossil fuels we are setting the world on a path for further losses and damages. This is where the COP has failed.
"Ultimately, COP is not the game, it's the scoreboard. The fight continues. The calls for including fossil fuel phase out have never been louder. Real progress on this agenda is happening in the real world, as people take to the streets, organise to stop new fossil fuel projects, litigate against the fossil fuel industry and mobilise for renewable solutions. We are not defeated, and we will never be defeated."
Zeina Khalil Hajj, Head of Global Campaigning and Organising, 350.org: "In Glasgow, we saw a phase down of coal. At COP27 in Sharm-el-Sheikh we needed to see an equitable and just phase OUT of ALL fossil fuels. A text that does not stop fossil fuel expansion, that does not provide progress from the already weak Glasgow Pact makes a mockery of the millions of people living with the impacts of climate change. The agreement on Loss and Damage is a major breakthrough, but without action to phase out the expansion of the fossil fuels that will cause further loss and damage, COP27 has failed to make the progress needed. And we are building a fund for our own destruction.
"The climate chaos in 2022, and the wakeup call from the Russian invasion of Ukraine, should've represented a u-turn in energy policies, but instead 600 lobbyists succeeded in delaying a much-needed agreement to secure a just and equitable phase out of fossil fuels. Still, we also know this is the last gasp of a dying industry. We see hope in the reform of multilateral development banks and will call at every turn for this to result in an increase in urgent finance needed for a just energy transition away from fossil fuels."
Landry Ninteretse, Regional Director, 350Africa.org: "Climate-vulnerable nations across Africa had high expectations of this COP, held in Africa, where extreme climate impacts are our lived reality, despite our continent being least responsible for the climate crisis. Our expectations are however far from being met, this was a COP in Africa, but hardly a COP for Africa. Among other things, we expected greater commitment on the phase out of fossil fuels, which drive climate change, resulting in devastating impacts.
"We can't afford any loopholes that leave room for the expansion of harmful fossil fuels and further destruction, like the dash for fossil gas on the continent by European nations. We welcome the mention of a loss and damage fund in the decision text and hope that this marks the beginning of the nations most responsible for the climate crisis truly being held accountable for their polluting ways and translates to real reparations for those least responsible and most affected."
Joseph Zikulu, Regional Director, 350.org Pacific: "The mention of the creation of a fund for loss and damages in the final text is a clear result from the pressure from the most impacted nations and the civil society. It is a signal that we finally got some rich nations to acknowledge the need to compensate our communities for the losses they have been facing for decades. All the vulnerable and historically not responsible countries need to be able to access funds when they need it.
"Each and every one of us will go from here, back to our communities and constituencies, and we will have a story to tell. Of our anger and rage at the failure of some countries to step up but also of the new and strengthened connections we have made. We will not and we will never be defeated."
Masayoshi Iyoda, 350.org Japan: "COP27 made it clear that Japan is not yet ready to host the G7 Summit in Hiroshima next year. In Sharm El Sheikh, Japan faced strong criticism as it is the largest provider of public finance for fossil fuel in the world from 2019-2021, going against the trends of decarbonisation. Among the richest and most polluting countries, Japan missed an opportunity to show its commitment to phase out all fossil fuels, essential to achieving the Paris climate target. Instead, the Japanese government and corporations play the role of financiers of false solutions, such as ammonia/hydrogen co-incineration, CCS/CCUS, nuclear, to prolong and justify fossil addiction beyond 2030.
"Japanese Prime Minister Fumio Kishida must immediately review and improve climate and energy policies, reflecting the latest IPCC report to be in line with the 1.5C pathway. Furthermore, Japanese megabanks, SMBC and MUFG Bank must listen to African voices and commit to not supporting fossil-devastating projects such as the East African Crude Oil Pipeline (EACOP). Otherwise, their pledges of 'carbon neutral' for the Paris climate agreement would be regarded as greenwashing and empty promises."