February 22nd is the annual day to celebrate the Nile River, an essential force of life for millions. In this celebration, 350.org called for the preservation and protection of the Nile in order to protect the lives of over 200 million people living in the basin that are increasingly threatened by desertification and other natural disasters aggravated by climate change.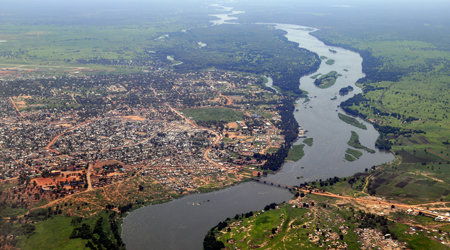 350Africa and Arab world hosted art exhibitions, cultural entertainment, educational talks and live concerts across national and regional commemorations of the Nile Day. Local communities already feeling the impacts of droughts caused by climate change, which is no longer a threat but a clear and present danger, participated in these activities and joined the movement to save and protect the Nile River.
In Egypt, 350 Egypt and Benha Puppetry Troupe have collaborated on an evening of short performances that capture a snapshot of the lives of those who experience the effects of climate change in Egypt's Nile Delta. In forms as varied as monologue, shadow puppetry and improvisational music, these pieces use live performance to encourage dialogue for social change.
"Nile day celebrations are important to the region given our challenges of water scarcity, drought and severe climate impacts,'' said Sarah Rifaat, 350.org Arab World Field Coordinator. Many of the poorest Africans, women and children are already facing more drought, floods and extreme weather that threaten their livelihoods and push food prices up. "Climate change will hit Africa hardest so this fight is about climate justice," added Rifaat.
The Nile River is the longest in the world, at 6,650 km long and encompassing an area of 3,349,000 square kilometers. Its basin is shared by 10 countries: Burundi, Congo-Kinshasa, Ethiopia, Eritrea, Egypt, Rwanda, Uganda, Kenya, Sudan and Tanzania.
Currently, the Nile is unable to cope with shared water demands. Effects of climate change such as unpredictable river flow and precipitation are adding to human-induced land degradation, deforestation, water pollution and the construction of competing hydropower dams in Ethiopia, Sudan and Uganda. All these challenges combined are aggravating the water crisis throughout the region.
Recent droughts in Ethiopia left more than 10 million people desperate for water and food. Prolonged and severe droughts in January 2016 saw 640,000 Ugandans in Karamoja face food shortages as a direct result of water shortages. Egypt, dependent mainly on the Nile for water supply, could be without water by 2025.
All the basin countries are susceptible to famine, droughts and prolonged El Niño effects. "The drought and recurrent food crisis experienced in the Horn of Africa, make water a very precious and scarce resource, and remind us of our common responsibility to protect the Nile River, which has provided life to people in the Nile basin for thousands of years," added Landry Ninteretse, 350Africa.org mobiliser.
In celebrating the Nile Day, the region apparently focused on reversing the impacts of climate change.
Governments along the Nile River basin were urged to include climate change adaptation policies into national development plans and base the future of their economies on clean, renewable energy. Such measures, adds 350Africa, can contribute to the global efforts to stop the climate crisis from worsening and lift millions of people in the region out of poverty.