Director-General of the National Biosafety Management Agency (NBMA), Sir (Dr.) Rufus Ebegba, speaks with Etta Michael Bisong about the challeges being encountered by the agency in the development of the sector, saying that teething problems are being overcome and Nigerians are increasingly becoming aware of genetically modified organisms (GMOs)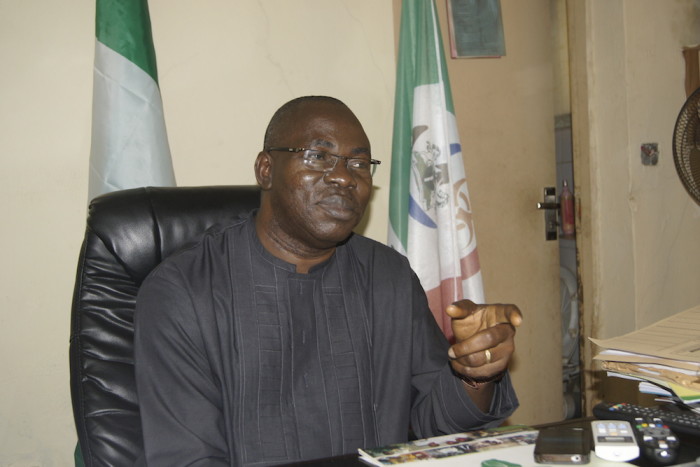 Achievement of the NBMA since establishment
You know the agency was established in 2015 and from that time to now it has all been about strengthening, and this is because the establishment of an agency requires necessary approvals from other relevant agencies.
So, we have been able to move staffs of the then Federal Ministry of Environment to form the core workforce of the agency. The agency has also gotten approval from office of the Head of Service of the Federation and is structured into five departments with three zonal offices. There is a new salary structure with relevant budgetary codes and systems which indicates that the agency has been integrated into Nigeria's governance.
Another thing that we have been able to do is to review the regulations that have been drafted over the years and these regulations are presently with the Federal Ministry of Justice for fine-tuning to ensure that they are in line with the legal system of Nigeria. We have new guidelines and they are finally going to be reviewed as part of instrument of strengthening the law.
We have visited various institutions and agencies with the intention of collaborating with them. And this is important because of the linkages when discharging enforcement and ensuring that Nigeria has a holistic biosafety. Also, we visited some institutions that were accredited to carry out genetic engineering and confined field trail to ascertain their current status and reissue permits to them in line with the agency's mandate.
We granted two permits this year to Monsanto Agriculture Nigeria Limited for the confined field trial of maize that has been modified for insect resistance, and cotton for herbicide tolerance for commercial release.
Presently, we are carrying out a survey to ensure that it is only approved GM foods that are allowed into this country. It is in line with this that we gave a directive that all super stores where GMOs are being sold should remove all those materials from the shelf unless a permit is granted to them by the agency. Additionally, we are also carrying out another survey to analyse some GM materials that we have selected as suspects to be able to trace their origin. This is with a view to enable us ascertain the safety of what we will be consuming and take proper record of these things to know when to remove them away from the market to manage their negative impacts.
Capacity building is very crucial. We embarked on a local Genetically Modified Organisms Detection Analysis training this year. Some of the staffs also attended international training in Kenya, Ghana and Uganda just to strengthen their proficiency. Also, we have an international expert that will be working closely with us to help Nigeria at least acquire international biosafety standard.
To showcase how Nigeria has been able to comply with biosafety regulations, the agency is also preparing to attend the conference serving as meeting of parties to the Cartagena Protocol and Convention on Biological Diversity.
The agency is also working very hard to relocate and strengthen the Biosafety Laboratory from its present location. We are also going to identify some private and government laboratories for accreditation and reference materials will be sent to them to double-check whatever analysis we are going to do so that our result cannot be faulted anywhere.
We now have a website where people can access information as well as some enforcement jackets to show our corporate identity.
About the campaign against GMOs
It has been a very interesting year with so many controversies; it shows that Nigerians are becoming conscious of GMOs. The debate for or against has always being on, the agency only brought it to the fore. The most important thing is that Nigeria should use this technology to innovate and grow in a safe manner.
The Federal Ministry of Environment in collaboration with the agency organised a meeting that brought experts together – those in support and against to discuss the issues surrounding GMOs, it was really intriguing and enlightening for both experts to give their views. It is very important to discuss and dialogue rather than doing damaging campaigns. Nigeria is not in isolation of the international community on the safety of GMOs, and will not stand alone.
The agency will never stop the use of GMOs because that is not what its mandate is all about. All we are assuring Nigerians is that no GMO that is not safe will be allowed into the market or the environment.
I am very happy with our media relationship, it is very cordial, and they have been a lot of improvement due to several enlightenment initiatives. Most of them are beginning to understand the concept of the technology which is good because it is very important for the right information to be reported to avoid fear or public panic.
Challenges and way forward
The economic situation has not been favorable globally and Nigeria is not in isolation of the economic environment. Funding has been one of our major challenges. Luckily, we are able to move and achieve some strides with or without funds, we are going to continue to do that and I believe with time Nigerians will understand.
Another challenge we have is the misinformation about the role of the agency. People shouldn't expect when they ask me to say GMOs are bad or can cause cancer when I have no scientific evidence to prove that. Safe GMOs have the opportunities to be use in so many areas including agriculture and medicine. Most of the portend drugs like insulin are derive from genetically modified materials. That is all we will tell them, because it is what we are here for. We must take the good aspect and prevent the misuse of the technology.
We are here to protect Nigerians and ensure that the right thing is done in the adoption of this technology. They shouldn't create a situation whereby those who have responsibilities to discharge will now be hated and threat to their lives becomes an issue. People should seek for information and let government do her work.  The United Nations (UN), World Health Organisation (WHO) as well as the Food and Agricultural Organisation (FAO) will not allow GMOs if they are as bad as people are saying. Their position on this technology is very clear.
Nigerians have been frightened and their emotions worked on that GMOs can kill. They should not be afraid because this technology is not based on emotion, and those campaigning against it have no scientific facts to such claim. They should allow Nigerians to reason because they are very intelligent people. I know that some people have made up their minds no matter what you say, their answer is no, but they should allow those who want to eat GMOs to do so. I wonder what those creating this fear want to achieve when they do not have alternative for the people.
I have said it repeatedly that my responsibility as a regulator of this sector is to ensure that Nigerians are protected from the abuse of this technology. Nigerians should know that nobody is going to be forced to eat GMOs; they are going to be labeled so that consumers can have choice.