The first Lead Authors Meeting (LAM) of the Intergovernmental Panel on Climate Change (IPCC) Working Group III scientists contributing to the Sixth Assessment Report (AR6) ended in Edinburgh, Scotland on Friday, April 5, 2019. IPCC Working Group III scientists focus on climate mitigation and assessing evidence, and providing guidance on what world governments can do to reduce greenhouse gas emissions.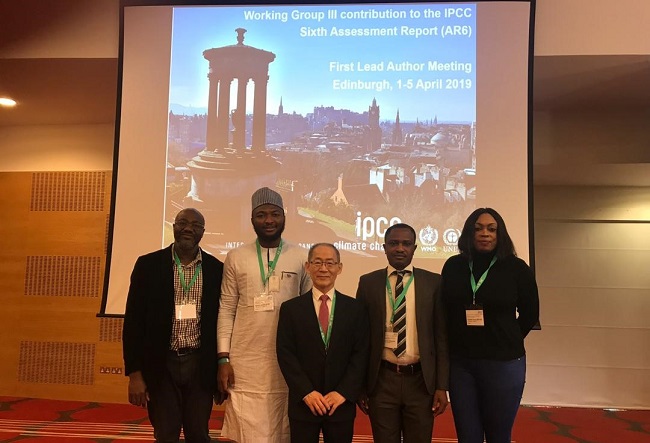 Nigeria was represented by four scientists. Leading the pack is Professor Chukwumerije Okereke, who is based at the University of Reading in the UK and strongly connected to Alex Ekwueme Federal University Ndufu-Alike Ikwo (AEFUNAI) in Ebonyi State. He is the Coordinating Lead Author of Chapter 1 of the Report which deals with Introduction and Framing the key methods and drivers for climate mitigation.
Professor Okereke is an IPCC veteran and has served as Lead Author on IPCC Fifth Assessment Cycle (AR5) and the IPCC Special Report on the impacts of global warming of 1.5°C above pre-industrial levels and related global greenhouse gas emission pathways, in the context of strengthening the global response to the threat of climate change, sustainable development, and efforts to eradicate poverty.
Dr Chioma Daisy Onyige, an environmental sociologist at the Faculty of Social Sciences, University of Port Harcourt, and a Fellow of the Rachel Carson Centre for Environment and Society, LMU, Munich and a Commonwealth Fellow of the University of Oxford, is serving as a Lead Author on Chapter 5 which focuses on demand, services and social aspects of mitigation. The chapter takes into consideration human needs, and improved quality of life for all of climate solution scenarios as a starting point. It also covers information relevant to strengthening the demand-supply interactions.
Dr. Ogheneruona E. Diemuodeke is a Senior Lecturer in Mechanical Engineering at University of Port Harcourt and serving as a Lead Author in Chapter 10 which deals with the global demand and supply sides of transport greenhouse gas emission and developing aggressive short- and long-term policy pathways for emission mitigation strategies.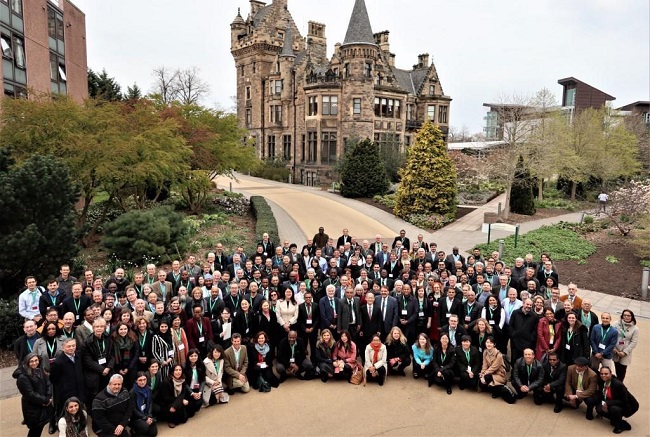 The fourth expert is Dr. Sanusi Ohiare, who is the Executive Director of Rural Electrification Fund (REF) at Rural Electrification Agency (REA), Nigeria which oversees the mobilisation and operationalisation of REF, with an objective of promoting and supporting access to reliable electricity supply for rural dwellers in Nigeria. Dr. Ohiare is working on Chapter 15 – Investment and Finance, which seeks to assess and present options for climate financing to policy makers and governments.
Dr Ohiare said: "It is an honour and privilege to be selected as one of four authors from Nigeria to carry out this all important task, as the IPCC has built a huge reputation over the years in promoting options for climate change mitigation and advancing the cause of clean energy and technologies, which is at the forefront of future global developments. The volume of experience and repository of innovative resources and manpower available for this task will no doubt provide a report that will chart the cause of the future, and I am glad to be contributing my quota."
Dr Onyige said: "Being an IPCC Lead Author is a very exciting opportunity, and very fulfilling as a scholar because it involves working with other expert scientists from all over the world to deliver the best assessment and scientific knowledge on climate change by providing policy makers with future scenarios in other for the policymakers to work towards mitigation options for the citizenry."
Dr Diemuodeke said: "I am happy to be appointed as a Lead Author for the 6th Assessment Report (AR6). My experience from the AR6, coupled with my expertise in the energy and energy efficiency, will be used to drive the transport system in Africa, and Nigeria in particular, towards a green economy."
Professor Okereke says he is delighted to be acting as the first Nigerian Coordinating Lead Author on IPCC Working Group 3 and is looking forward to engaging with the Nigerian government and public on how the country can best make use of the IPCC findings which will be presented in September 2021. He said he would welcome expression of interest from Nigerian scientists who are interested in contributing to IPCC reports.