By seeking to align the Reducing emissions from Deforestation and Forest Degradation (REDD+) and Nationally Determined Contribution (NDC) commitments, Nigeria is towing the path of a global agenda, Acting Director, Department of Climate Change in the Federal Ministry of Environment, Halima Bawa-Bwari, has said.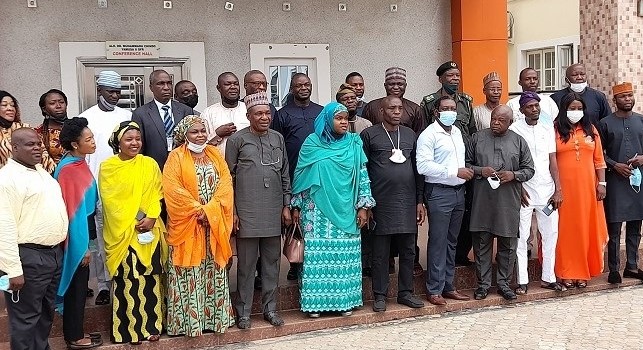 Bawa-Bwari, who made the submission on Thursday, May 20, 2021 in Keffi, Nasarawa State, during the opening of a two-day Stakeholders' Engagement Workshop for REDD+ Alignment with Nationally Determined Contribution (NDC), said that the process encourages the inclusion of forestry as mitigative and adaptive measures in addressing climate change.
The REDD+ mechanism contributes directly in achieving the Nationally Determined Contribution globally and other climate change global agenda, while addressing poverty, health and well-being, hunger alleviation, and improving institutions, she stated, adding that the National REDD+ Strategy is one of the key national policies for ensuring conservation and sustainable management of forests.
She said: "Among other things, this initiative identifies the main causes of deforestation and forest degradation, and it proposes policies and measures to address these challenges and pave the way for the sustainable management of forests and aids in the nation actualisation of its NDC targets.
"Many developing countries' Nationally Determined Contributions (NDCs) recognise the important role of forests and have put forward mitigation measures. However, these measures do not directly aim at reducing emissions.
"NDCs will be ineffective in achieving its intended outcomes unless it includes clear policies and measures to tackle the drivers of deforestation and forest degradation, as well as a transparent monitoring and evaluation framework."
According to her, the in-person and virtual workshop sought to engage stakeholders to facilitate dialogue that will elaborate the role of REDD+ in the forest sector's contribution to the NDC revision and implementation planning processes and its alignment with other sectors involved in the NDC revision process.
She added that the forum, which featured law makers, MDAs (ministries, departments and agencies) and private sector players, also facilitated government-level understanding and support for the integration of REDD+ as a forest sector into the NDC revision process and implementation strategies and into sustainable development, in general.
Describing the workshop objective, REDD+ Stakeholder Engagement Consultant, Tony Atah, said that, besides linking REDD+ with the NDC, the idea is to get REDD+ expanded in Nigeria, including in national climate policies.
"REDD+ has the potential to transform Nigeria's development trajectories in climate change mitigation," he said, listing priority areas of discussions to include:
Highlighting the need to prioritise government investment in areas that stimulate deforestation-free economic pathways.
Highlighting measures to minimise government spending in areas that deplete forest resources through transformational sectoral policies relevant to REDD+ and the NDC.
Explore possible alternative economic development pathways based on standing forests.
Identify ways to increase investment across relevant sectors in sustainable management of and production from standing forests.
National Coordinator, Nigeria REDD+ Programme, Dr. Moses Ama, while giving an update on the programme, said that the country was adjudged to be one with one of the highest rates of deforestation but keyed into the REDD+ programme to address the challenge.
"With over 50% of Nigeria's tropical forest domiciled in Cross River State, we needed the political will in the (Liyel) Imoke government, which showed willingness to buy into the programme. With Cross River positioned as the centre of excellence, we gradually began to make progress.
"We needed to strengthen institutions and Cross River developed safeguards, monitoring systems and the Forest Reference Emission Level (FREL). Today, we have six other states doing REDD+ because they saw an element of success in Cross River State.
"There should be investment to support the forest dependent communities, we should do something so as not to lose the progress made. Besides doing a National FREL and developing a National Forest Monitoring System, we have validated a National Strategy Document, and identified investment opportunities.
"We're managing a grant that helped us to increase the programme to six states, and we now want to be doing investment in REDD+." Other speakers at the event were Mr Huzi Mshelia, the NDC Partnership Facilitator, who made a presentation on Nigeria's NDC, and Ibironke Olubamise, the Global Environment Facility – Small Grants Programme (GEF-SGP) National Coordinator, who explored issues related to "Community-Based Approach: Opportunity for realising REDD+ and NDC targets."