The range of sectors included in the adaptation section of Nigeria's Nationally Determined Contribution (NDC) as climate priorities has been described as narrow.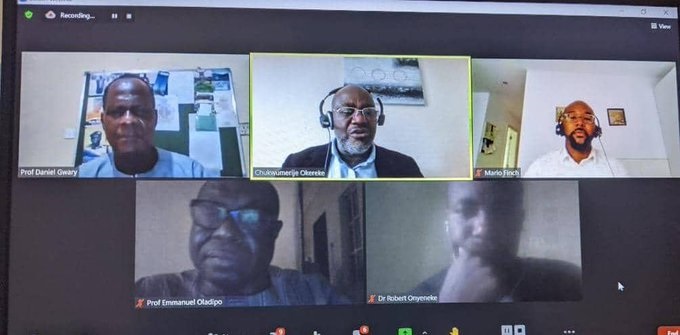 According to Prof. Emmanuel Oladipo, a climate change expert, they do not cover enough sectors that could upscale the ability of the country to adapt to the adverse impacts of climate change and foster climate resilience and low greenhouse gas emissions development in a sustainable manner.
The sectors are Agriculture, Forest, Energy, Transportation and Communication, as well as Industry and Commerce.
Prof. Oladipo spoke on Thursday, May 20, 2021 during a webinar themed: "Adaptation and Smart Agriculture in the new Nigeria's NDC". It was organised by the Centre for Climate Change and Development (CCCD), Alex Ekwueme Federal University, Ndufu-Alike Ikwo (AE-FUNAI), Ebonyi State, in partnership with World Resources Institute (WRI).
Prof. Oladipo, who's presentation was titled: "Analysis of the adaptation components that could be included in Nigeria's Nationally Determined Contribution (NDC)", stated that adaptation priorities defined in the NDC are limited to a narrow range of sectors that are sensitive to climate impacts.
He said: "Key sectors that need to be included, using the opportunity provided by the ongoing revision, include coastal zone management, education, governance and institutions, health, urban development, water and waste."
The pair of Robert Onyeneke and Chukwuemeka Emenekwe in a presentation titled "Options for promoting climate-smart agriculture in the new NDC in Nigeria" explored ways that agriculture should be treated in the revised NDC.
They pointed out that Nigeria's agricultural sector comprises crop production, livestock-rearing, forestry, and fishing, adding that the sector is part of the AFOLU (Agriculture, Forestry, and Other Land Use) sector of IPCC, which contributed about 60% of total emissions in the country.
According to them, the current NDC was drafted without sufficient stakeholder engagement, and that critical stakeholders like indigenous peoples and local communities were largely ignored.
"Communities, for example, face specific climate change vulnerabilities because of their intrinsic relationship to forests and ecosystems and their poverty situations. Top-down climate change actions that ignore the particular circumstances of such peoples are therefore more likely to fail and hinder the chance of achieving the CSA objectives of the NDC," they stated.
The eggheads stressed that neither the current NDC nor agriculture-based policies provide the detailed financial resources necessary to implement the agricultural sector's CSA activities (and those of its subsectors).
While saying that no total implementation cost is given for unconditional or conditional actions, they insisted that the current NDC does not sufficiently address the role of extension in promoting climate-smart agriculture uptake in the country.
They therefore recommended that current sectoral GHG targets in the NDC are verified and, if necessary, strengthened to make them more ambitious, based on robust and accurate data.
"The revised sectoral NDC should explicitly state emissions reduction targets and activities it recognises as CSA for each agricultural subsector. The enhanced sectoral NDC should specify the expected land area to be reforested by 2030 and also state the expected emission reduction potential of the reforestation activities," they added.
On conditionality, Onyeneke and Emenekwe suggested that the enhanced sectoral NDC should indicate what share of GHG emission reduction is based on unconditionality and conditionality (external support).
On governance and stakeholder engagement, they underscored the need to specify who has responsibility or ownership of climate change response in the sector in order to avoid duplication of duties and foster better coordination among key stakeholders.
"Also, more stakeholder engagement is required during drafting of the revised NDC to ensure buy-in and sustainability of planned activities in the sector. The government should adopt a more robust decentralised approach in implementing the NDC as it relates to CSA."
On climate finance, they suggested that a sectoral NDC financing strategy should be developed to estimate needs and possible sources, and to assess the requirements to close current gaps.
Besides comprehensively reviewing and updating the mitigation and costs evidence base, institutional arrangements for climate finance should be put in place, domestic budgetary allocations to the agricultural sectors increased, and a detailed review of funding options in the agricultural sector should be carried out.
Director of the Centre, Professor Chukwumerije Okereke, who moderated the session, said: "In assembling these highly respected and experienced panellists within Nigeria to share their thoughts on how adaptation and smart agriculture can be effectively captured in the new Nigeria's NDCs, CCCD AEFUNAI is delivering on its mandate to serve as a major think tank for facilitating research, awareness creation and advocacy meaningful engagement of private sector and other critical stakeholders in the ongoing revision of the NDC in Nigeria. Also, recommendations from the webinar would be documented and submitted to relevant government agencies for actions and implementations.
"The webinar, which focused on how to improve the Adaptation and Climate Smart Agriculture Components in the Nigeria's revised NDC, yielded several insights including the need to pay special attention to coastal zone management and urban development."
The webinar is part of the webinar series under "Promoting critical analysis of, and stakeholders' engagement with the revision of Nigeria's NDC," a project being undertaken by the CCCD AEFUNAI, with support from the WRI.
The one-year initiative that commenced on July 2020 will, according to Project Coordinator, Professor Okereke, help to widen the horizon of the discourse and compliment the current government led NDC revision process.
By Michael Simire