A fresh initiative that incorporates low carbon systems in power generation and supply is expected to increase the production of renewable energy in Nigeria by up to 10 percent in 2020.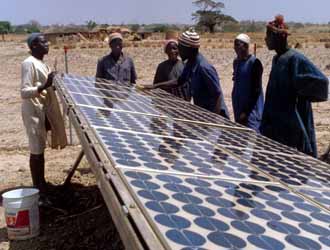 Titled: Promoting Low Carbon Energy Solutions in Nigeria Energy/Power Supply", the project is being promoted by the Global Environment Facility (GEF) and the United Nations Development Programme (UNDP). Power generation under the Nationally Appropriate Mitigation Action (NAMA) supported scheme designed to transform the nation's sector however excludes large hydro-electric systems.
The NAMA is a mitigation action tailored to the national context and capabilities, which is in accordance with national sustainable development priorities. Introduced in the Bali Action Plan in 2007/INDC (intended nationally determined contribution) in Lima 2014, NAMAs provide opportunities for national mitigation efforts to receive appropriate support.
The United Nations Department of Economic and Social Affairs (UN DESA) has estimated that it will cost up to $250-270 billion per year to shift developing countries to 20 percent renewable energy by 2025 to meet the combined challenges of energy access, energy security and climate change.
At a stakeholders' review and validation meeting in Abuja last week, participants expressed the fact that despite high potential for private sector interest and involvement, barriers to the implementation of low-carbon energy systems will increase the cost of capital by increasing the risks to investments.
According to them, higher risks reduce the financial attractiveness of investments in low-emission systems, thereby preventing or slowing down the required transformation in energy systems.
In a presentation titled: "Derisking renewable energy NAMA for the Nigerian power sector," Prof Emmanuel Oladipo of the University of Lagos described leveraging financing to low-emission energy pathways in a timely manner as a challenge in the energy sector.
He stressed that the UNDP-GEF project will support the Federal Government to implement the component of its INDC related to the power sector, particularly with respect to utilising solar PV – in line with government's endorsement of the Copenhagen Accord.
Prof Oladipo noted that low-carbon development pathway will allow Nigeria to achieve the objectives of the Vision 20:2020 at a lower cost than the reference scenario, even as he broke the Derisking Renewable Energy Investment (DREI) down into four stages: Risk Environment, Public Instruments, Levelised Cost and Evaluation.
He said: "Besides supporting government in the development and implementation of a NAMA in the energy sector, the project will contribute to the reduction of GHGs related to the renewable electricity targets established voluntarily by government, which aims to achieve a contribution of 10% installed capacity of various sources of renewables by 2030."
In designing the project, Prof Oladipo stated that officials will:
Apply relevant NAMA methodologies and guidance for identifying and designing solar PV
Pilot the implementation of the NAMA activities around a 100 MW private sector solar PV plant in Bauchi State.
Develop a standardised baseline for the electricity sector as part of the development of an MRV system for quantifying GHG emission reductions.
Develop a GIS-based tool to guide private developers in siting geographical locations for PV, wind and biomass projects across Nigeria based on several criteria, including renewable energy resource potential, grid coverage and stability, environmentally sensitive areas, and physical infrastructure, among others.
The GIS-based tool will be accompanied by a geographically-differentiated risk approach using UNDP's DREI methodology.
Identify and capitalise financial instruments to catalyse the necessary levels of private financing to implement the RE NAMA
Link these financial instruments to the MRV system to catalyse climate financing.