Just when Nigerians are counting on the possibility that Abuja, the Federal Capital Territory, will be counted among the best cities of the world, facts about how well-planned cities are rated have begun to emerge, and the indices suggest that some Abuja high-brow districts are far from measuring up to international standards.
It has been disclosed that, environmentally speaking, Asokoro, which is one of Abuja's elite districts, is a slum.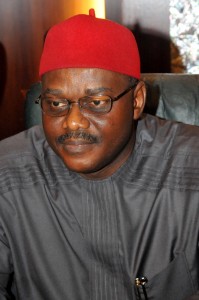 The Registrar, Environmental Health Officers Registration Council of Nigeria (EHORECON), Augustine Ebisike, in a chat with EnviroNews Nigeria in his office last weekend, disclosed that most of the districts of Abuja score the zero mark when it comes to environmental health designs and facilities.
According to the environmental health expert, Nigeria is sitting on a health time bomb because the infrastructure and practices that enhance human health are fast deteriorating and, if not checked, by the next couple of decades the nation shall be contending with severe health issues which were brought about by preventable circumstances.
"There are a lot of practices that are neglected today but which are detrimental to the environment. Take for example, dirty water is not supposed to be used to mould construction blocks, but right here in Abuja and everywhere else the situation is that people just go and start a block moulding factory and use dirty water to produce them, and nobody says anything about this. These blocks built with dirty water have been proved to have short life span, and before long, they begin to disintegrate," Ebisike said.
"Another fact is that the streets here are not built to enhance the wellbeing of citizens. Even Asokoro, and some other districts of Abuja, were designed like a slum. This is because in a well-planned standard residential area, the streets are planned in a way that there is space for pedestrians, and also cyclists, so that people can exercise. The international standard is that builders could use only 50 per cent of space in a plot for building in a residential area, while 75 per cent in a commercial plot; the rest space is supposed to be open ground for diverse health-enhancing facilities."
The EHORECON boss also shed light on the fact that most working class Nigerians are living sedentary life which is not healthy, considering that the human body needs constant physical exercises to maintain a sound condition and biological equilibrium.
"Today we all live a sedentary lifestyle, and our children's only way of spending their leisure time is playing video games, computers and television. Nobody exercises, and in the future we shall have a whole lot of preventable diseases come upon us. In fact, we are sitting on a time bomb.
"The truth is that 70 per cent of illnesses are preventable with environmental modifications. But even in Abuja here we are living a sedentary lifestyle while there are no playgrounds for our children to play at home. Nigeria needs environmental health interventions to remedy the situation. This is why the Federal Government, by the Act 11 of 2002, established Environmental Health Officers Registration Council of Nigeria."
It will be recalled that during the colonial and post-colonial era, the efforts at keeping the environment clean through societal effort in self-determination, self-motivation and self-reliance with the community concept of full participation were initiated; these efforts were spearheaded by the then Sanitary Inspectors who moved from house to house enforcing environmental health standards.
Unfortunately over the years, Environmental Health (EH) services and EH practice deteriorated in Nigeria from the standard set by the British colonial masters to a position of total neglect of the sub-sector by both succeeding governments and the general society over the years.
It is also on record that the Sanitary Inspectors now known as Environmental Health Workers (EHO) were the major motivators who moved from house-to-house to inspect premises, educate household members on sanitation and hygiene matters, caused nuisances to be abated and also enforced necessary environmental health related laws and regulations.
"First, by providence, Environmental Health has been recognised as a profession Nigeria through an Act of parliament the Environmental Health Officers (Registration, etc) Act 11 of 2002. The Environmental Health Officers Registration Council of Nigeria has been established to regulate the profession. What needs to be done is for all Nigerians to adopt Environmental Health consciousness and fall back on what was done right in those days of sanitary inspectors which worked well for our public health and environmental integrity.
"Second, Environmental Health services must be seen as public good that needs to be protected and the practice guided to enable it contribute to national development. The Transformation Agenda of President Goodluck Jonathan has outlined the need to empower people, promote private enterprise and change the way people do their work to reduce poverty and inequality. A good platform for achieving this is a disciplined environmental health culture, which provides the opportunity for optimal health and aesthetic environment," he concluded.
By Greg Odogwu