Our cocoa industry has the potential to employ millions of Nigerians and also create economic spin-offs, which would in turn provide employment for other millions. But, sadly, this is not so. Over the years, successive governments have killed the industry with bad policies, weak vision and deliberate corruption and cooperation with external vested interests.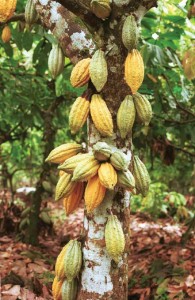 Nigeria is the fourth-largest producer of cocoa beans in the world, behind Cote d'Ivoire, Ghana and Indonesia. After petroleum, cocoa is the country's most important export – before independence, cocoa generated about 90 per cent of Nigeria's foreign exchange earnings. Today, about 300,000 to 350,000 tonnes of cocoa are produced every year, but more than 96 per cent of this is exported. This looks good on the surface; but when one looks deeply, the Nigerian government's policy on cocoa export is killing our economy. Secondly, the government's deliberate discouragement of small businesses in cocoa-based manufacturing brutally hit the cocoa industry.
Export is good; but when it is only empowering foreign businessmen while taking away jobs from Nigerians, it should be reviewed drastically. Experts in the industry have constantly raised alarm over government's continued incentives to cocoa exporters, as opposed to cocoa processors. It is interesting to note that almost all the cocoa exporting firms are owned by foreigners.
According to Gbenga Osinaike, a cocoa industry analyst, "From all indications, exporting raw cocoa is indirectly helping the economies of the importing foreign countries' economy. In most of the other countries where cocoa is produced, the exporters of the produce are made to pay tax to the government; but in Nigeria, government's Export Expansion Grant on the commodity is as good as subsidising exporters. Exporters of raw cocoa are receiving undue government patronage. This trend, in a way, will only help to discourage private efforts at processing and in the long run kill the nation's economy and keep our youths perpetually in the unemployment market."
The truth is that the few Nigerians who are in the business of cocoa processing cannot compete with the foreign companies who take our raw cocoa to their country, process in their factories and bring back to us as finished cocoa-based products. This is very much like the dilemma we all cry about today bedevilling the petroleum industry; whereby we export our crude oil, and then import it as costly refined products.
This trend has chased a lot of Nigerians out of the cocoa business. One of the few still weathering the storm, Dimeji Owofemi, said in an interview recently, "It will be enough if the government stops giving incentives to those exporting the raw material because the raw material is a core element. For instance, in our industry, we don't need any other raw material; it's cocoa, 99 per cent. The rest of the items in the finished product – milk and sugar – are less than one per cent in value. So, the government needs to stop giving incentives to us on one hand and taking it back on the other hand by giving incentives to those who have external factories because the incentive being giving on raw beans export is incentive to external factories. Those external factories are being protected by their own countries through the imposition of taxes on the cocoa we have added value to."
The irony is that most of the cocoa-based end products are labelled as contrabands in Nigeria, but the rate at which they still find their way into our borders is alarming. A brief trip to any 'trendy' local supermarket will illustrate this. This therefore raises the million naira question: "Is it, how porous is our borders, or how weak are our policies?" And this can only be answered by the Nigerian Customs Service, and the National Planning authorities.
The government must be practical. If our 170 million-population cannot be satisfied by the local cocoa-based products; there are two options before us. Firstly, the government could lift the ban, but tax the importation so severely that the foreign firms targeting the Nigerian market would be forced to open factories in the country, thereby boosting our economy. Secondly, the government could totally ban importation of all cocoa-based products, and strictly implement this; and then pump in angel funds and grants to Small and Medium Scale businesses to develop a robust indigenous cocoa-based manufacturing value chain.
This brings me to the other problem. During the late 1990s, NAFDAC and SON clamped down on Nigerian businessmen who were engaged in the so-called 'mushroom manufacturing' of packaged cocoa-based beverages. In those days, the local markets were flooded with small sachets of 'alternative bournvita'. They came in several brand names: CocaMela, CocoVita, MorningCoco, etc. They catered to the needs of the Nigerian masses many of who could not afford the big cans of the established cocoa beverage brands. Note that in those days these big brands did not produce the little sachets that are common in the market today. Then, it was either you bought the big can or you could not 'drink tea'. Therefore, a beverage morning meal or 'tea' was a rich man's breakfast.
The Nigerian government's decision to chase the small beverage producers out of the system effectively killed a budding industry that would have solved two problems at one stroke. It would create employment for the teeming youth population while empowering them with the requisite knowledge to populate an emerging production value chain. It would also provide an easy market for the nation's cocoa raw material, and in turn catalyse a local cocoa processing sub sector. To be candid, Nigeria had the opportunity to become an industrial giant just like China who started out with this kind of small holder business model. But we lost all this in an overzealous drive by a visionless public service.
I personally interviewed one of the frustrated beverage manufacturers. He graduated from a Nigerian university in 1996; after NYSC, he decided to become an entrepreneur so learnt how to package the sachet beverage. He bought processed cocoa from Ondo State; and after production, supplied his branded products in several parts of the country. Before his second year in the industry, he had expanded his one-room factory to a warehouse, and employed other 36 Nigerian youths. NAFDAC supervised his brand, gave him a registration number, and business was going well; until the government came up with new, untenable, guidelines aimed at kicking them out of business. Many of these entrepreneurs insist that the government was working in cahoots with established beverage brands who felt threatened by the mass reception of these mushroom brands by the enormous market existing in this great nation.
It does not take a professional statistician to know the harm done to Nigeria by the policy. The youths that were potentially disengaged from fruitful enterprise and sustainable capacity can only be counted in the millions. The man I interviewed is now a low paid civil servant; while he would have become an international businessman by now, counting his millions and inventing more job-creating ventures. There is no over-emphasising the fact that a nation where everybody is dependent on the government to provide his every need is headed for the rocks. No wonder, at the ongoing National Conference, every Dike, Tolu and Haruna is out-shouting each other over sharing of the nation's resources; Assets that we are not even ready to manage with wisdom and transparency. May God help Nigeria.
By Greg Odogwu