The Federal Government on Monday, July 26, 2021 called on developed countries through their high commissions and embassies to support Nigeria in the implementation of  its environmental protection programmes.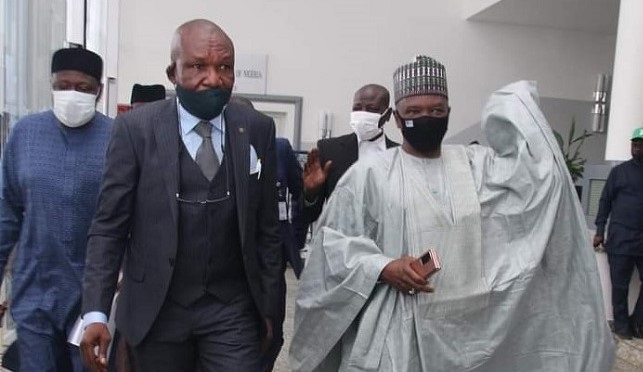 Minister of Environment, Dr Mohammad Abubakar, made the call at the inauguration of Nigeria's National Reducing Emission from Deforestation and Forest Degradation, (REDD+) strategy document, in Abuja.
Abubakar said the government would remain committed at ensuring a healthy and safe environment, adding that the support from other developed countries would enhance its efforts.
He called on the United Kingdom and other governments, through their high commissions and embassies here in Nigeria, "to hear and to amplify our message".
"As we, like many other nations, are suffering from the effects of climate change today, we are committed to protecting and improving our own natural environment for the benefits of Nigerians.
"We are eager to partner with others in supporting these efforts in combating global climate change.
"Nigeria is willing to raise its ambitions in this area but cannot do so without international support and collaboration, for which the United Kingdom government should be able to provide or deploy its network in making this happen.
"We are, therefore, looking forward to expanding and strengthening our relationships within the global climate change community, as we showcase this strategy at the forthcoming Conference of Parties 26 (COP26) in Glasgow, this November,'' he said.
The minister said that the REDD plus strategy was a strong indication of the commitment and efforts of the government in reducing the rate of deforestation and forest degradation.
He said the strategy would also contribute to the objective of the Paris agreement in addressing climate change.
"It is also a process that was building momentum for a decarbonised and a more inclusive and resilient economy," Abubakar said.
He added that other development partners such as the UN Development Programme, and various environmental stakeholders at the national, state, and community levels as well as broad and in-depth analytic studies led to the development of this strategy.
Abubakar said that Nigeria's vision for implementing REDD plus was to establish a climate resilient economy through sustainable management of forests.
"To enhance carbon sinks, and reduce Green House Gas (GHG) emissions by at least 20 per cent by year 2050.
"Over the next decade, we propose to reduce projected total forest sector emissions by 20 per cent, or approximately 150 MtCO2e through the implementation of the REDD plus strategies and other initiatives.
"The objective of the REDD plus is to reduce the rate of carbon emissions and enhance removals from the forest sector while creating benefits for resilience building and green economic development.
"This will be by way of adopting ecologically friendly and climate-smart forest and forest-related investments.
"The REDD plus strategy has identified four broad options as a set of strategic response to enable Nigeria to achieve the objectives of this strategy," he said.
Mr Shubham Chaudhuri, the Country Director for Nigeria, World Bank, in his remark, said that the inauguration of the REDD plus would help in addressing environmental challenges, especially climate change in the country.
Chaudhuri, who was represented by Mr Diar Motovani, said that the World Bank was committed to support the ministry in the implementation of its projects both technically and financially.
He appreciated the government on its efforts at ensuring that programmes and projects were effectively implemented in the country.
Mrs Pauline Tallen, Minister of Women Affairs and Youth Development, said that the ministry was committed to ensure that women were involved in the implementation of the REDD plus programme.
Tallen said that use of firewood was one of the major factors that contributed to increase in emission, adding that women across the country had embraced alternative means of cooking.
She said that the ministry had also engaged women across the country in sensitising the public on the dangers associated with indiscriminate dumping of waste and cutting of trees.
She added that the efforts would help to mitigate climate change impact.
British High Commissioner, Catriona Laing, stated that sustainable management of Nigeria's forests and ecosystems can reduce emissions, while promoting sustainable livelihoods and a climate-resilient national economy. According to her, Nigeria's ambition on climate change and a determination to reverse this trend has been evident since COP21 in Paris.
Liang, who was represented by Sean Melbourne, the Commission's Head of Climate Change and Energy (West Africa), submitted that Nigeria has taken several progressive steps more recently including the issuance of Green Bonds, signing up to the Leaders Pledge on Nature, publishing a Gender Action Plan on Climate and a National Adaptation Plan (NAP) Framework, among other important measures.
She said: "We are also pleased to see the renewed focus on the Great Green Wall initiative. We applaud the increased focus on nature-based solutions in Nigeria's revised NDC, and welcome its submission to the UNFCCC by the end of this week.
"It is now more important than ever to translate this ambition into implementation. The REDD+ Strategy sets out a clear roadmap to do this, including through robust Monitoring, Measurement Reporting and Verification, accompanied by proposals to build capacity, integrate knowledge management and learning, and importantly by communicating the Strategy to a wide range of stakeholders, including people in local communities, the farmers and fisherfolk."
According to her, tackling climate change and biodiversity loss will be the UK's international priority through COP26 (which the UK is hosting in November) and beyond. A key priority action, she noted, would be to drive sustainable and legal use of natural resources – promoting climate smart agriculture that regenerates ecosystems and provides healthier and more sustainable food.
Her words: "The UK has been working closely with Nigeria's Federal Ministry of Environment on the Forest, Agriculture and Commodity Trade Dialogue (FACT). This initiative brings together the world's largest producer and consumer countries of forest-risk commodities to agree collaborative actions that will protect forests whilst promoting trade and development. At COP26, a clear roadmap will set out how members can raise ambition and take demonstrable action to do this.
"We have also been working with Nigeria's Federal Ministry of Agriculture and Rural Development on the COP26 Sustainable Agriculture Dialogue on how to better target policy and support that can both help farmers and consumers, without harming nature and the climate. At COP26, we want to showcase examples of national leadership that sets a pathway to more sustainable patterns of land use as a key element of the global fight against climate change.
"By collaborating with others, Federal Government can underpin successful interventions that support climate and biodiversity and livelihoods. We are pleased at the level of ambition and action also being taken at the State level, which is critical.
"For example, at the UN Climate Action Summit in 2019, Edo State signed up to the Just Rural Transition, a programme which aims to transform food and land usesystems by building an action-oriented evidence base, mobilising stakeholders and catalysing partnerships and strengthening collective purpose.
"The UK's partnership with Edo State through our Partnerships for Forests Programme and the Tropical Forest Alliance Africa Palm Oil initiative has developed and committed to principles and actions for responsible oil palm production. We applaud Governor Obaseki's ambitious agriculture reform plan to produce, protect and rehabilitate, and the commitment to net-zero deforestation by 2025.
"The UK is looking to strengthen its partnerships with other States and the Federal Government to promote and protect Nigeria's rich ecosystems, including through its innovative UK PACT programme, which is already underway in Kano, and the Blue Planet Fund, which has the potential to support Nigeria's important coastal habitats and communities.
By Vivian Emoni