The Federal Government on Wednesday, May 25, 2022, called for European Unions' support to ensure effective implementation of the Climate Change Act and other environmental policies to achieve a healthy environment in the country.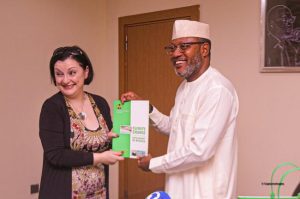 Alhaji Mohammed Abdullahi, Minister of Environment, made the call when Amb. Samuela Isopi, Head of the EU Delegation to Nigeria, paid him a courtesy visit in Abuja.
President Mohammadu Buhari signed the Climate Change Bill into law in November 2021.
The Act paves the way for environmental and economic accounting and a push for a net zero emission deadline plan in the country.
Abdullahi listed some of the environmental programmes already implemented and needed the support of the EU to include Climate Change Act, drought and desertification, energy transition planning, plastic waste management and illegal wildlife trading.
"I am delighted to see you in this ministry because you always show this vibrancy about your job and have as well shown commitment to drive the agenda.
"The discussions we are having with the EU gives us opportunity to understand where we are taking off on the issues that concern planet which is where we are living.
"The presentations you made earlier and issues you raised basically focused on climate change, energy transition planning and dialoguing on key programmes on the sector.
"Meanwhile, we had this legislation on climate change, and we are working towards implementation of the act.
"We are trying to see how we can navigate around some challenges of inconsistencies in the act.
"We need the EU and other developed countries to support Nigeria as well as other African countries to address the challenges.
"So, we will need some legal cooperation from the EU,  to bring expertise that will help us to implement the Act and other issues effectively,'' he said.
Abdullahi said that Nigeria had started preparation for the UN Climate Change Conference 2022 (UNFCCC COP27), adding that the conference would be the 27th session and would take place in Sharm El-Sheikh, Egypt.
He said that Buhari made a strong commitment about meeting zero emission by 2060, adding that the ministry wanted to ensure that the effort was actualised through the EU assistance and other global intervention.
He said that the ministry, in collaboration with UN Office on Drugs and Crime, had put in place National Strategy Policy to combat illegal wildlife trade and forest crimes in the country.
He added that the ministry was also working toward providing plans on how to tackle waste management, adding that various activities by people had severely raided the environment.
He said that the ministry collaborated with other relevant stakeholders, both in local and international, to ensure that environmental challenges were effectively tackled in the country.
"We are working hard to ensure that from South to North, West down to East have an environment that is friendly as well as making sure that our land will be cultivatable.
"We want to also make sure that people have access to clean water so that their livelihood will also be enhanced.
"I hope and have confidence that collaborating with the EU, we will be able to achieve our mandates effectively,'' he said.
Earlier, Isopi said that the aim of the visit was to express the EU's commitment and support as well as strengthen its cooperation with Nigeria toward addressing various environmental challenges.
She said that the EU was working on important framework on political dialogue with Nigeria and the need to continue with such idea for efficient implementation of programmes and policies in the country.
"I want the cooperation to continue with the Ministry of Environment to enable us tackle climate change, energy transaction and other environmental issues.
"These issues are centre of our cooperation in Nigeria, whereby, we are already having a lot of dialogue with Nigeria.
"Last week, we had a first section of this sectorial dialogue and the ministry was represented, we had a good preliminary discussions on these issues and it was a progressive meeting.
"We hope that the effort will give a better result on those issues we are discussing, we really hope that we can continue the dialogue with Nigeria delegations and EU expertise.
"The dialogue will help us as we are trying to see how together we can work to support Nigeria in the implementation of those priorities."
The ambassador said that the EU had also engaged with public sectors in addressing renewable energy, adding that such involvement would help in addressing environmental issues.
She, however, assured that the EU would ensure that it provided strategy to support in combating illegal wildlife trade, forest crime and other environmental crises in the country.
By Vivian Emoni