On Wednesday, May 25, 2022, in the side-lines of the meeting of the G7 environment, climate and energy ministers in Berlin, German Federal Environment Minister Steffi Lemke, President of the German Environment Agency Prof. Dirk Messner, and US Environmental Protection Agency (EPA) Administrator Michael Regan signed a joint declaration to expand cooperation between their two institutions to address environmental issues relevant to the United States, Germany as well as the international community.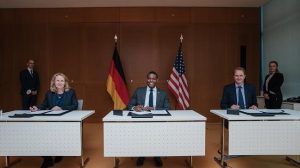 The close German-American cooperation covers, among other things, the topics of natural climate protection, recycling management, marine protection, just transition, air pollution control, soil and water protection as well as the opportunities and risks that arise from digitalisation for the environment.
Steffi Lemke and Michael Regan declared: "The United States of America and the Federal Republic of Germany have a long tradition in ambitious environmental policy, both domestically and globally. As large, industrialised economies, we face similar challenges to a clean environment, nature conservation and public health. Today, we want to initiate closer cooperation to address these challenges, by sharing experiences and knowledge and coordinating on major global environmental issues.
"We recognise existing cooperation in the fields of climate and the environment between the United States of America and the Federal Republic of Germany, including the U.S.-Germany Climate and Energy Partnership, the Transatlantic Climate Bridge and the DE-US.net partnership on brownfield revitalisation. Also, we welcome the existing longstanding exchange between experts of our institutions in various international fora, technical working groups, and research projects.
"We are aware of the existence of regional and global environmental issues and stress the need to find long-term solutions to address these issues through international cooperation, as well as the importance of cooperation among the federal environmental institutions in both countries. We recognise the common environmental challenges facing both countries and the importance of bilateral cooperation and knowledge exchange to address these issues. Therefore, we seek to deepen cooperation between our institutions in order to promote bilateral, as well as regional and multilateral initiatives, as appropriate, in critical environmental issues of mutual interest."