Nigeria's coordination and body language towards the 25th Session of the Conference of the Parties (COP25) to the United Nations Framework Convention on Climate Change (UNFCCC) holding in Santiago, Chile in December 2019 smacks of readiness for the negotiations.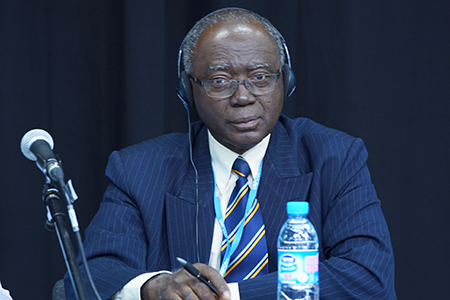 Legal adviser to the African Group of Negotiators (AGN) to the UNFCCC, Prof. Seth Osafo, stated this on Wednesday, August 20, 2019 at the sidelines of a forum in Lagos organised by the Federal Ministry of Environment, with the support of the United Nations Development Programme (UNDP).
The Ghananian lawyer and environmental expert told EnviroNews that, at a previous negotiation, Nigerian delegates came prepared.
His words: "From what I know, during the negotiations, they came prepared.
"I am told there is going to be a preparatory meeting, which is very important to bring people from the whole country who will be part of the delegation representing different sectors and departments.
"When they come together, there's coordination; they would be able to agree on what they are going to do, what Nigeria's position is going to be. I think that alone is very important. So, when they go to the meeting, they speak with one voice."
On the formation of the legal team, which was postponed till November due to logistics challenges, he said: "What we have done here is to bring people to up the capacity of lawyers. Some of them are already familiar with the issues, but there are others also who are not very familiar. Some are new (to climate change issues) while some have been in the process for quite some time. So, the whole idea is to groom a team of lawyers.
"I realised that some came from the federal government, some from the states. So, we have lawyers from the federal and state levels, all being enhanced in their capacities as far as climate change issues are concerned. So, when, for instance, they go to the international negotiations on climate change, they will be able to support their national delegation when it comes to addressing legal issues within the negotiation."
He was optimistic that, after the COP25 preparatory meeting in November, the country's delegation would have been better equipped for Santiago.
By Chika Onwuji