"I urge you to come out with a national work plan on gender and climate change that is implementable, achievable, smart and that would address the nation's challenging problems in the short, medium and long term. We must also develop and implement specific plans to fill the gaps in adaptation, capacity building, education, access to safe, affordable, available and sustainable technologies, and decision-making schemes for women in rural contexts."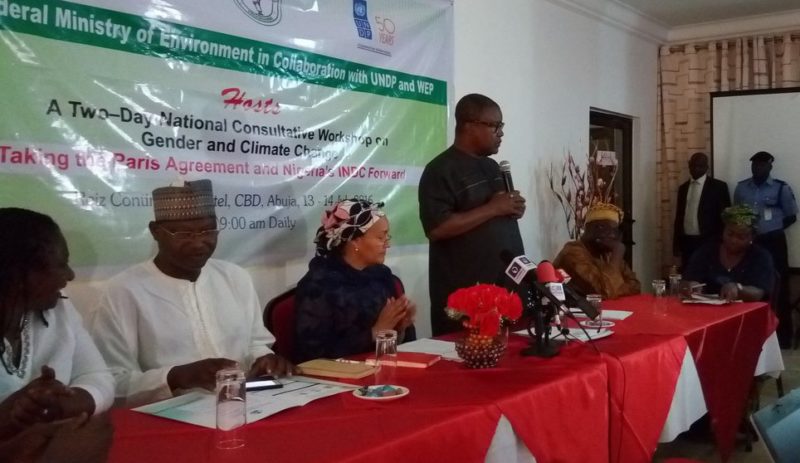 Those were the compelling words of Mrs Amina Mohammed, Nigeria's Minister of Environment, last Wednesday (13 July, 2016) in Abuja while officially opening the two-day National Consultative Workshop on "Gender and climate change consultation: Taking the Paris Agreement and Nigeria's INDC forward."
The forum, along with the expected outcome, according to her, is an avenue by which gender takes the front stage in addressing climate action through the implementation of the Paris Agreement and the Nationally Determined Contributions (NDCs).
She acknowledged the fact that progress towards recognising the need to address gender equality in climate change initiatives has been gradual, adding however that, over the past eight years, more than 50 decisions of the United Nations Framework Convention on Climate Change (UNFCCC) now support the recognition and integration of gender considerations.
She identified some of these to include the Clean Development Mechanism (CDM) that supports countries through emerging women and gender-related processes to plan mitigation activities; the recently-adopted Paris Agreement wherein, for the first time, gender-related dimensions of climate change are explicitly recognised by Parties to the UNFCCC; and where about 40% of INDCs submitted to the UNFCCC mentioned gender/women in the context of their national ambitions on climate change mitigation.
Her words: "It is important to note that women are not only vulnerable to climate change but they are also effective actors or agents of change in relation to both mitigation and adaptation. Women often have a strong body of knowledge and expertise that can be used in climate change mitigation, disaster reduction and adaptation strategies. Furthermore, women's responsibilities in households and communities, as stewards of natural and household resources, position them well to contribute to livelihood strategies adapted to changing environmental realities."
Opia Kumah, Resident Representative of the United Nations Development Programme (UNDP) in Nigeria, spoke in a similar vein, acknowledging women's pivotal role in natural resources management and in other productive and reproductive activities in the household, community, local and international levels.
Besides creating an opportunity for a better understanding of the link between gender and climate change, he expressed the optimism that the Consultative Process would, in line with the country's commitment to the implementation of the INDC, focus on community-based organisations and groups that take action with a gender sensitive lens.
"We have to work in a real spirit of partnership where concerned stakeholders like local women communities, NGOs and the private sector collaborate and develop equitable climate change adaptation strategies and responses to ensure sustainable development for Nigeria," Kumah stated, even as he underlined the need to ensure sufficient financing, accountability and good governance to make the dream a reality.
"Your call to strengthen transparency and clarity on the role stakeholders for effective implementation of the Paris commitments in Nigeria can only be led by Nigerians," he added.
Prof Emmanuel Oladipo of the University of Lagos, Akoka in a presentation titled: "Perspectives on the Paris Agreement and the linkage to Nigeria's NDC" underlined key measures of the country's NDC (that aims to reduce per GDP emission from 0.873 kg CO2e in 2015 to 0.491 kg CO2e by 2030) as: end gas flaring by 2030; off-grid solar PV of 13GW; efficient gas generators; 2% per year energy efficiency (30% by 2030); transport shift car to bus; improve electricity grid; and, climate smart agriculture and reforestation.
He listed specific activities to be carried out in the NDC implementation to include:
Review of mitigation potential identified in INDC preparation against the Strategic Framework for Voluntary Nationally Appropriate Mitigation Action – to enable Nigeria pursue a low carbon climate resilient and pro-growth and gender sensitive and sustainable development path.
Review of Nigeria's current climate finance landscape, support needs and the international funding landscape, along with an assessment of climate finance readiness and gaps – in line with the detailed provisions of the Paris Agreement.
Gap analysis of existing data sharing and reporting structures and processes and make initial recommendations on the appropriate form and structure of a national MRV system, including completing and maintaining the national GHG inventory and assuring data quality.
Promoting public awareness and education on (gender-responsive) climate-compatible development.
Training and capacity building.
Titilope Ngozi Akosa, Executive Director of Centre for 21st Century Issues, in a paper titled "Role of Women and Youth in the Implementation of Paris Agreement and Road to COP 22", stressed that ensuring women and youths participate in climate change decision making process is very crucial for an agreement and actions that takes account of their needs.
According to her, while the youths are uncomfortable with negotiators who they (the youths) see as delaying in catalysing the climate agreement and actions, women demand that the climate agreement must include social dimensions, and be very ambitious in terms of emission reduction targets while rejecting harmful and risky technology in limiting emissions to below 1.5-degree pre-industrial levels.
She suggested women and youths' roles for Paris Agreement implementation as well as COP22 to include:
Understand and track the processes for gender and youth concerns
Adopt youth and women positions to engage the processes
Identify important policy spaces and moments for interventions
Track the implementation of NDCs
If possible join the negotiators, join climate change justice movements and other relevant groups to advocate
Showcase gender just solutions that have worked
Participate in climate change meetings at national and global levels
Track climate finance to know whether women and youths are benefitting from global climate financial flows
Monitor the processes and know where changes are occurring and address them as appropriates
At the national level, Akosa believes women and youth should:
Work with the relevant Climate Change Department to conduct policy analysis on various national policies on climate change and link them to the Paris Climate agreement and SDG goal on climate change
Youth and women's group should form a strong coalition to amplify their voices and concerns
Showcase local case studies that have worked for women and young people
Organise gender and climate change workshops and engage with key stakeholders
Collaborate with government
Work with government to stop gas flaring
Ensure climate responses are not anchored on risky and harmful technologies and false solutions
Nkiruka Nnaemego, CEO/Founder, Fresh & Young Brains Development Initiative, spoke on "Youth Initiatives to combat Climate Change in the context of the Paris Agreement and Nigeria's INDCs."
She emphasised in her presentation that despite the fact that youth are trustees of the future for the next generation, there is under-representation of youth in the policy design, implementation and monitoring frameworks of the INDC.
"Few youths were involved in the preparation of the 2011 NASPA-CCN, Nigeria Climate Change Policy Response and Strategy, 2012 and National Agricultural Resilience Framework (NARF 2014) which are key components of Nigeria's INDC," Nnaemego stated, adding that apart from poor access to information and poor capacity on climate change issues, youth issues are often lumped with and swallowed by women and gender-related issues which, according to her, end up not fully addressing youth needs.
She outlined the role of youths in implementing the INDCs as:
Research & Documentation: Innovative ideas and strategies for Climate Change Adaptation, Mitigation
Policy Advocacy: End Gas Flaring by 2030, NASPA-CCN, Nigeria Climate Change Policy Response and Strategy, 2012, National Agricultural Resilience Framework (NARF 2014)
Participation in negotiations
Develop Local and Eco-friendly Technology: Efficient gas generators, off-grid solar PV
Capacity Building: CCA, Mitigation, REDD+, Renewable Energy, Advocacy
Social Media, Grassroots and Public Campaign: to reach rural youth and communities
Conferences, Festivals, Caravans
Climate smart agriculture and reforestation: climate resilient crops, composting, irrigation systems, livestock diversification and range management, early warning/meteorological forecasts and related information.