As the country seeks to diversify the economy to non-oil base following dwindling oil price, Nigeria has been advised not to be in a hurry to exploit its rich solid mineral deposits while facilities to process the resources are yet to be in place.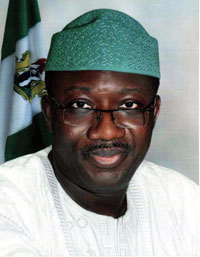 Advisor, Business Development Unit, West African Institute for Financial and Economic Management (WAIFEM) Prof. Douglason Omotor, who gave the advice at a forum in Lagos, explained that exporting solid mineral in its raw form would rob the country of huge revenue and job opportunities that would have accrued to it if the commodities were locally processed.
He noted that exploiting the solid mineral in their primary forms would amount to the repeat of the mistake in the oil sector, in which the country exports the raw crude, while the refining process, which creates more job opportunities, is lost.
"It should be done with caution. Looking at the value addition when we exploit it. Rather than exporting it in its raw form as a primary commodity. Looking at the state at the international market, it is not the best for us because Nigeria as a country is a price taker and primary commodity exporters are price takers and because they are price takers, they don't determine the price of these commodities. Over time experience has shown that the price of these commodities are subjected to cycles. They increase today, tomorrow their prices decrease and when they decline they decline very fast. And so, what we should do in terms of the exploitation of solid mineral is that we put in place a mechanism that will add to the value in terms of its creation. So, rather than export it raw, we should export the processed part and, in processing it, many hands will be involved and by the time many hands are involved, we are talking of job creation, revenue generation and we are talking of higher standard of living in the country. So we have to be very careful so that we don't make the mistake we made in the exploitation and exportation of crude oil what we are suffering from because it will not be different from that unless we begin to add value to these minerals."
Prof. Omotor said the country should rather start the economic diversification with agriculture, housing development and expansion of tax collection which, according to him, are both sustainable and have the prospect of creating massive job opportunities.
Nigeria is heavily with over 44 solid mineral deposits spread across the 36 states of the federation and the Federal Capital Territory.
Estimated to be in billions of metric tons, the country's solid mineral deposit is estimated to generate more revenue and job opportunities than crude oil.
Among the solid minerals that are in commercial quantity include iron ore, titanium, gold, tin, uranium, lead, zinc and coal.
According to participants at the gathering, some countries have been able to survive by one or two of the solid minerals. The stresses the need to preserve the environment which they described as the greatest asset that mankind has.
One of the speakers who raised the concern was the President, Association of Retired Paramilitary Officers, Dr. Wale Oloyode, who said that while it was necessary to start harnessing solid minerals to take the country out of its economic misery, the environment should be protected at all times for it to continue to support life.
"It is a good thing to explore what God has given us such as gold, limestone, zinc and many other solid minerals, to get extra resources to fund government expenses. But, unfortunately, exploitation of these mineral resources has its implications. So we need to thread softly. We don't need to rush things. We should explore it in a manner that it will be useful to us to create useful employment and preserve our environment. All we need to do is proper assessment of what is going on and be proactive about the implications of unrestricted and uncontrolled mining that is going on all over the country."
Director, New Nigeria Foundation, Professor Ajibola Obafemi, said the group was to begin the massive engagement of state governments to help them sustainably create generate revenue to among other things protect the environment.
"We intend to start engaging state governments to ensure an inclusive way of diversifying their economy. As we all know, a lot of states are in serious trouble now because they do not have enough resources within them. It is an aberration in Nigeria that people depend on the central government to be sending oil money. What about the countries that don't have oil? The states in these countries, how do they manage? The use resources within the state."
A board member of NEITI, Gbenga Onaiga, had in a separate forum at the Lagos Business School vowed that the agency more than ever before was determined to ensure that resources in the country were sustainably harnessed to ensure improved living standards for Nigerians.
"We have been talking about diversification of the economy for many years. But more than ever before, the people led by the media should ensure that the diversification is real. If this country must survive, it must pay attention to agriculture. We must also pay attention to exploiting the enormous solid minerals that we can find in every local government areas of this country. We in NEITI must ensure that natural resources in this country are carefully, decently and sustainably exploited to translate into improved living standards for most Nigerians," he disclosed.
Illegal mining of solid minerals activities, with their attendant consequences including pollution of water sources and destruction of ecosystems, have been on for years and still going on in different places across the country.
By Innocent Onoh