After what seemed a polarising electoral campaign that promoted hatred and division, candidate Jair Bolsonaro won the runoff for the presidency of Brazil on Sunday, October 28, 2018.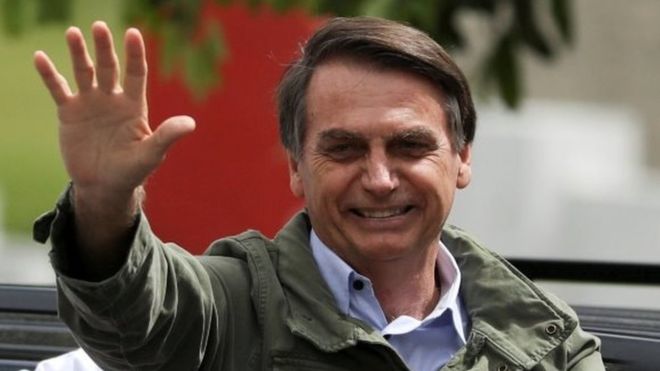 Bolsonaro had vowed to withdraw the country from the Paris Agreement but retracted that proposal days before the election. However, he has indicated he will weaken the form and enforcement of Brazil's climate policies, including allowing the development of fracking in Brazil.
He has said he will loosen regulation protecting Indigenous Peoples' rights and will not allow one square centimetre more to be managed by Indigenous Peoples. He has also stated he wants to restrict NGOs and civil society activism, including by restricting rights to public protest and other forms of democratic participation.
Brazil's Paris commitment is to reduce emissions by 37% on 2005 by 2025 by increasing zero carbon energy, promoting reforestation, and stopping illegal logging, particularly in the Amazon.
International environment and rights activist group, 350.org, has however frowned at the new leader's submissions, saying that he should, among other issues, keep to the country's climate commitment.
May Boeve, 350.org Executive Director, said in a statement made available to EnviroNews: "The election of far-right candidate Bolsonaro to the highest office in Brazil represents a real threat to human rights at home and a risk to the momentum for climate action abroad. Brazil's Paris commitment is of global significance, and any retreat from it would be deeply concerning. If Brazil steps back from the content of its commitment on forest protection and switching to zero-carbon fuels it could unravel the progress made on climate action in recent years and would be deeply unpopular and dangerous.
"The right of Brazilians to protest and to hold their elected representatives to account on environmental, or any issue, must be respected and protected. Brazil has a leadership role to play in protecting and uplifting Indigenous Peoples' rights and has committed to reach zero deforestation by 2030 and restore forests by 12 million hectares, among other goals. Brazilians do not want to abdicate that leadership.
"Some 85% of Brazilians are concerned about climate change, they know they are in fact one of the countries most vulnerable to ever-increasing climate impacts, and they want more action; not less. Mr. Bolsonaro must work in the interest of all Brazilians, including Indigenous Peoples whose rights to their ancestral land continue to be challenged, but who hold extraordinarily valuable traditional knowledge on how we can live sustainably on this shared planet.
"A warming planet will be deadly for many in Brazil. The poorest will be the hardest hit by unchecked climate change. Poor and vulnerable communities in Brazil also suffer most from the activities that drive climate change – ike fossil fuel extraction, fracking, and deforestation. These people must be at the forefront of the mind of the new President.
"For our part, we will keep promoting civic engagement and grassroots organising to stop fossil fuels and to support a rapid and just transition powered by renewable energy. We will keep the need for Brazilian leadership on climate on the national and global agenda.
"We will be resilient. Our team in Brazil is resilient and will support and engage all people who are committed to defending human rights and a safe and healthy environment. In this climate we must all be resilient."