The National Environmental Standards and Regulations Enforcement Agency (NESREA) has held a stakeholders review on the draft National Environmental (Plastic Waste Control) Regulations 2023.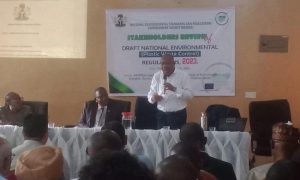 The consultation, which was held on Thursday, July 27, 2023, in Lagos, was attended by representatives of industry captains whose production had to do greatly with plastics.
In his welcome address, the Director-General of NESREA, Prof. Aliyu Jauro, expressed appreciation to stakeholders who took time out of their busy schedules to deliberate on the draft of the regulation.
"I also express my  profound appreciation to the European Union – sponsors of this exercise,  and the Lead consultant, SRADev Nigeria led by Adogame and his team, for the tireless efforts toward achieving the objective of the draft regulation.
"The main objective of this regulations is to provide measures for the control and minimisation of pollution from the operations and ancillary activities in the plastic sector in the environment for Nigeria.
"As well as amongst others, to adopt sustainable and environment friendly practices in plastics and plastics waste management to minimise pollution," Jauro said.
Dr Leslie Adogame, Executive Director of Sustainable Research and Action for Environmental Development (SRADev) and National Consultant to NESREA, European Union Projects on Plastic Waste Control Development, said that the process of developing a regulation especially for a sector like plastic waste was very important.
Adogame said that it was important because plastic is in everybody's use, all over the world, in every community in every state, and because of the connectedness of every human being to plastics.
According to him, the process of trying to manage and regulate plastic requires that one  interfaces with all the key stakeholders in the plastic ecosystem
"And here there are concerns because of all the multifaceted implications
"There is a health, environmental, socio-economic component of plastic," Adogame said.
He said that all the components of plastic should be put into consideration so that the government could roll out a regulation that is implementable and unenforceable.
"You need to consult with people, so that way you need to give understanding or  a moratorium and hear people out before you  construct your regulation," Adogame said.
He added that the regulation was going to manage people and not animals.
The Chairman of the occasion, Prof. Babjide Alo, urged the stakeholders to study each section of the draft regulations carefully to make their input.
In her remarks, the Executive Secretary of the Food and Beverage Recycling Alliance, Agharese Onaghise, said that her members needed time to properly understudy the provisions of the draft regulations.
She said that there was need for extensive engagement of the relevant stakeholders on the different sections.
"Let there be a phased implementation of the regulations for the interest of stakeholders in the industry," Onaghise said.
Different stakeholders bared their minds on how the regulation would affect their businesses
By Fabian Ekeruche