Climate change caused by rising levels of greenhouse gases in the atmosphere poses a threat to people, wildlife and ecosystems around the world and achieving net-zero is a critical step towards preventing the worst effects of the phenomenon and protecting the planet.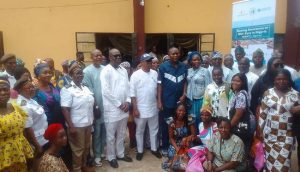 Mr. Michael Bankole, Deputy Director/Head, Climate Change and Environment Planning, Lagos State Ministry of the Environment and Water Resources, made this submission on Thursday, July 27, 2023, during a One-Day Community Consultation on Raising Awareness on Net-Zero organised by Centre for 21st Century Issues (C21st Issues) at the offices of Ojokoro Local Council Development Area (LCDA) in Lagos.
Presenting the paper titled: "Lagos Our Pathway to Net-Zero", Banloke described net-zero as "balancing the amount of greenhouse gas emissions and the amount removed from the atmosphere which involves reducing emissions as much as possible switching to renewable sources and using carbon-neutral technologies to remove any remaining emissions".
He, however, noted that greenhouse gases are natural, but actions of mankind have increased their activities, thereby leading instances such as extreme heat, extreme flooding and rising of the sea level which are the three major effects of climate change.
While highlighting the importance of net-zero emission, Bankole said: "Net-zero will limit global warming to 1.5 degrees Celsius above pre-industrial levels, the maximum temperature rise considered safe by many scientists. Net-zero will protect biodiversity, reduce the impact of climate change and preserve the beauty of our planet for future generations. At the same time, it will improve air and water quality, reduce the risk of natural disasters and help create healthier communities."
The Deputy Director/Head, Climate Change and Environment Planning in Lagos State however noted that "achieving net-zero is a daunting task and required significant changes in the way we live, work and consume. Some of the main challenges to achieving net-zero include funding, behavioural change and political will with benefits such as cleaner air, job creation and sustainable growth to be achieved upon transitioning to net-zero in Lagos State.
In her opening remark, the Executive Director, C21st Issues, Ms. Titi Akosa, who noted that her organisation is working in collaboration with other civil society organisations such as International Climate Change Development Initiatives (ICCDI) and Connected Advocacy (CA), noted that proper advocacy needs to be embarked upon especially on the issue of climate change leading to zero emission of carbon.
"We believe that everyone in Ojokoro LCDA needs to be aware of the importance of climate change and that is the essence of this programme. So, we need to do our part as civil society organisations in order to mitigate the effect of climate change on our environment.
"There are several activities we are engaging in daily which as a result of our ignorance, we directly or indirectly harm the atmosphere. Also, we want to look at the efforts of the government at all levels in ensuring that our environment is safe for habitation," she maintained.
The Executive Director of C21st Issues, who appreciated efforts put in place by Hammed Idowu Tijani, the Executive Chairman, Ojokoro Local Council Development Area, in ensuring the programme becomes a reality, also noted that this is the very first of such programmes in Lagos State and plans are in motion in ensuring that other local government areas in Lagos State are covered by C21st Issues and partners.
In his keynote address, Tijani noted: "Climate change will put millions of children and vulnerable households at increased risk of violence. Women and girls are particularly vulnerable to climate change due to pre-existing gender inequalities and social norms with 45 million people worldwide currently at extreme risk of famine.
He said: "It is therefore in this context that Ojokoro LCDA in collaboration with 'Raising Awareness on Net-Zero in Nigeria (RANZ)' is organising this One Day Community Consultation on Emission Reduction (Net-Zero) to mitigate climate change for sustainability and prosperity in Ojokoro LDCA.
"In time past, Ojokoro LCDA has been engaging in tree planting in ensuring that our environment is safe for all residents, and we are going to work in collaboration with the Lagos State Ministry of Environment on this very project in ensuring that we have a centre where plastic wastes generated can be turned into wealth for residents of Ojokoro LCDA, hopefully this should be done in the next three months."
Dignitaries present at the events include leaders of Ojokoro LCDA, leaders of market men and women associations, Community Development Associations in Ojokoro LCDA, health officials and religious leaders.
By Ajibola Adedoye