The need to build the culture of tree planting and re-greening the environment has informed the emergence of a tree planting project in Udo community, Ovia South-West Local Government Area, Edo State.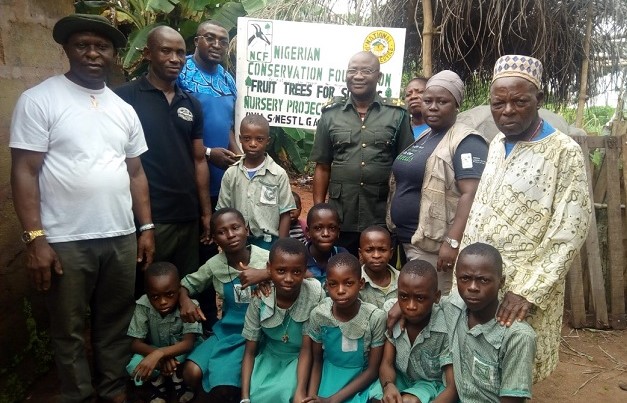 The Nigerian Conservation Foundation (NCF) in partnership with National Parks Service (NPS) has embarked on fruit trees planting in some selected community schools in the state. The project will involve planting of fruit trees and setting up of nurseries, as well as establishment of conservation clubs in nine schools in Udo community. The pilot phase was conducted on Friday, July 19, 2019 in Obarenren Primary School, Obarenren.
Some of the fruit trees planted were avocado, jack fruit, mango, soursop and orange, among others. The pupils of the schools will further be engaged on setting up of nurseries, tree planting and other conservation club activities.
Dr. Joseph Onoja, Director, Technical Programmes, who led the NCF team, stressed the need for every community in Edo State and neighbouring states to adopt tree planting exercise as top priority.
He said: "We all know that we need to plant more trees, and there is no better place to start than in the schools."
The school community appreciated the gesture and pledged to nurture the plants while head teachers of other schools present showed interests in the project.
The following activities have been designed to be carried out subsequently:
Establishment of conservation clubs in each of the nine schools to involve the pupils on environmental education;
Monthly visit to the schools for proper monitoring of the project;
Training of students on plant potting and setting up of nurseries; and
Schools making space available for the nurseries to be set up in their schools.
In attendance were Mrs. Abidemi Balogun, Head of Environmental Education, NCF; the chairman of the community, Chief Ativie Ogie; deputy community head, Chief Osagie Agbonlahor; school heads; and Conservation Education Officers of Okomu National Park, among others.