The Nigerian Conservation Foundation (NCF) has partnered ATC Nigeria, a telecommunications outfit, to plant trees at Pan Atlantic University (PAU), Ibeju-Lekki, Lagos State.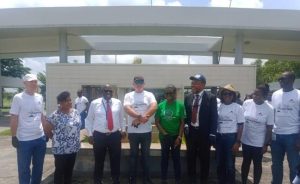 Speaking at the event on Wednesday, July 19, 2023, the Chief Executive Officer (CEO) of ATC Nigeria, Mr Errol Ambler-Smith, said that tree planting was one of the initiatives taken by the company to give back to the society.
Amber-Smith said the goal was to ensure that we live in a sustainable environment.
"We are a company with a very strong social conscience.
"And part of one of the initiatives that we use in terms of our sustainability programme is planting of trees.
"In 2022 we kicked-off the programme and planted in excess of 9,800 trees throughout Nigeria and we are looking to expand that this year to plant in excess of 12,000 trees," Amber-Smith said.
The CEO said that as a company that owned and operated nearly 8,000 telecommunication masts throughout Nigeria, they took the issues of environmental sustainability very seriously.
To buttress the importance of environmental sustainability to ATCN, the CEO said: "We have reduced the average generator runtime on our sites from 21 hours to about eight hours through the  deployment of solar systems with lithium  batteries."
Also speaking, the Director-General of NCF, Dr Joseph Onoja, said the foundation was partnering with ATC Nigeria to plant 500 trees at PAU.
Onoja was represented by Ms Folake Salawu, the NCF Green Recovery Nigeria Programme  Coordinator.
He said the tree planting exercise was part of a country wide tree planting activities supported by ATC Nigeria.
Onoja said that in partnership with ATC Nigeria, the foundation would be planting 12,000 trees across nine states in five Geo-political zones in 2023.
He listed the states to include Lagos. Ogun, Rivers, Benue, Plateau, Gombe, Yobe. Kano and the FCT, Abuja.
According to him, the tree planting programme supports the Green Recovery Nigeria (GRN) project of the foundation.
The aim of the GRN project remains to increase the forest cover in Nigeria to at least 25 per cent of the total landmass by 2047.
"This is in line with the Paris Agreement," Onoja said.
For Dr Peter Bankole, Chief Operation Officer, PAU, the university embarked on tree planting in the school to preserve some of the species of the tree from extinction.
Bankole said that some of the undergraduate students had not seen some of the trees before in their lifetime.
He added that the trees also served to increase carbon footprints.
The COO also said that the trees housed the nests of the birds found around the school.
By Fabian Ekeruche