The High-Level Political Forum on Sustainable Development – the forerunner to the SDG Summit in September – ended on Wednesday, July 19, 2023, under the auspices of the UN Economic and Social Council (ECOSOC), with a renewed call for urgent and collective action to deliver the Sustainable Development Goals (SDGs) by 2030. The SDGs remain the world's blueprint for a more resilient, peaceful, and inclusive future.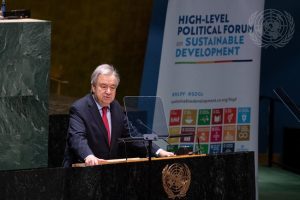 Over 100 countries joined businesses, civil society organisations, youth, and others during the eight days of the Forum to share successes, experiences and lessons learnt on the SDGs. The Forum, which focused this year on specific goals related to sustainable energy, clean water, infrastructure and innovation, sustainable cities, and partnerships, stressed the critical need for bold and transformative action at the local level.
Task ahead daunting, but still possible
Only 12 per cent of SDG targets are on track, according to a preliminary assessment of roughly 140 targets for which data is available. With only seven years left, the task ahead to achieve the SDGs is formidable, but not impossible.
"We are halfway to 2030 and yet nowhere near to achieving the SDGs. The bad news is we've lost seven years. The good news is-we still have seven years and victory is within our reach," said UN Economic and Social Council President Lachezara Stoeva.
"But countries must integrate the SDGs into their national development plans, policies and strategies. A strong push must be made to accelerate progress, and aligning national priorities with the SDGs is paramount to ensure a coherent and comprehensive approach to sustainable development," added Stoeva.
According to the SDGs Report 2023: Special Edition, there has been progress in some areas. Some 800 million people have been connected to electricity between 2015 and 2021. 146 countries already met or are on track to meeting the under-5 mortality target and effective HIV treatment cut global AIDS-related deaths by 52% since 2010.
"As we cross the halfway mark to 2030, one overriding truth stands out in my mind: Change is possible. Backsliding is not inevitable. Poverty, pollution, and gender inequality are not pre-ordained," said UN Secretary-General António Guterres at the opening of the Forum. "They are trends that can be reversed, problems that can be solved, tragedies that can be averted, lives that can be saved. And together, we can deliver."
Voluntary National Reviews
Thirty-eight countries and the European Union presented their Voluntary National Reviews at the Forum, demonstrating the bold actions they are taking to achieve the SDGs.
Snapshot of countries' progress:
In the Central African Republic, the number of mobile phone users has increased from 35.6% in 2018 then to 56.7% in 2022, in essence, a leap of 21% in four years.
The Comoros government continues its initiatives to increase renewable energy capacity to 40% by 2030.
The European Green Deal strives to make Europe the world's first climate-neutral continent by 2050.
The Kingdom of Saudi Arabia has made significant progress in creating jobs, with a particular focus on female labour force participation, which rose from 19.4% in 2015 to 36% in 2022.
Tourism and its ancillary sectors have rebounded sharply in St. Kitts and Nevis, contributing to real GDP growth of 9% in 2022, after contracting 14.5% in 2020 and 0.9% in 2021.
World's failure to invest in the SDGs
The most vulnerable countries are bearing the brunt of the world's collective failure to accelerate progress on the SDGs.
At present, 37 out of the 69 world's poorest countries are in debt distress or at high risk, hampering their ability to accelerate action on the SDGs.More than 108 million people as of December 2022 were forcibly displaced from their homes and there was a steep rise to conflict related civilian deaths with over 50% surge in 2022, fueled by the war in Ukraine.
SDG Summit 2023
This year's Forum sets the stage for the SDG Summit from September 18 to 19, where world leaders are called on to renew their commitments and raise their ambition for the SDGs.
Strong political will, accompanied by bold investments in the SDGs, is essential to reversing setbacks. The UN Secretary-General's SDG Stimulus outlines the need for the international community to come together to mobilize investments for the SDGs, calling on wealthier countries to scale up affordable long-term financing to help countries in need to the tune of $500 billion annually.
"I urge every government to come to the SDG Summit with clear plans and pledges to strengthen action in their countries to 2030," said Mr. Guterres. "We need ambitious national commitments and interventions to reduce poverty and inequality by 2027 and 2030."