Waste management is a major challenge in Kenya, especially in Nairobi, the rapidly growing capital. Nairobi produces around 2,400 tons of waste every day, of which only 38% is collected and less than 10% recycled. The remaining 62% is left on illegal dumpsites and next to houses or burned, causing severe health and environmental problems. Additionally, the private sector overlooks the income generating opportunities from waste, such as recycling and composting.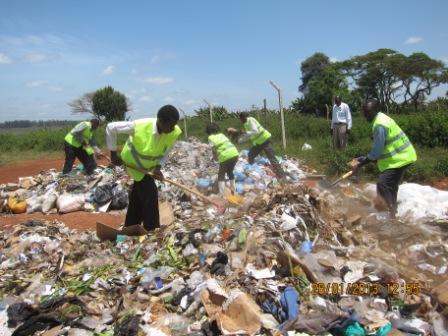 This missed opportunity is targeted by the NAMA on Circular Economy Solid Waste Management Approach for Urban Areas in Kenya, which has been issued by the Ministry of  Environment and Natural Resources of Kenya and UNDP Low Emission Capacity Building (LECB) Programme.
Under the NAMA, up to 600 tons of waste will be recycled every day (which accounts for 25% of Nairobi's total waste). This will save more than 800,000 tons in CO2e emissions over the 15 years' lifetime of the NAMA and add 1,600 jobs to the economy.
By diverting waste from dumpsites to recycling points, waste collection companies will reduce their operating costs. This will make collection services more affordable to more than half a million low-income residents, thereby adding improved health to the environmental and socioeconomic benefits.
The NAMA will also test and operationalise new recycling technologies, as well as strengthen existing recycling industries. This will include conversion of organic waste to insect based protein, terra-preta production (enriching compost with waste-based charcoal), using residual waste for cement kilns, and a study on the treatment of hazardous waste fractions.
The NAMA is fully aligned with the policy goals of the Kenyan government, as set out in Kenya Vision 2030, National Climate Change Action Plan (NCCAP) and the Environmental Management and Coordination Act (EMCA), which promote the provision of sanitation services and recycling.
The total cost of the NAMA is estimated to be around $39 million. Approximately $25 million is to be funded by international finance ($13 million in grants and $12 million in loans), while the Kenyan government will fund $10 million in grants and the private sector will invest $4 million.
The NAMA will be carried out in two distinct phases over a period of 15 years: Infrastructure development phase (years one to 5) and full-scale operations phase (years six to 15). As private sector companies will operate each part of the NAMA, all activities will continue operating past the end of the NAMA timeline.