Apparently moved by a publication on plight of residents of Kanti village, a community located west of Rigasa, a suburb of Kaduna metropolis, North-West Nigeria, General Officer Commanding (GOC) 1 Division, Nigerian Army, Major General Adeniyi Oyebade, has constructed a borehole in the community.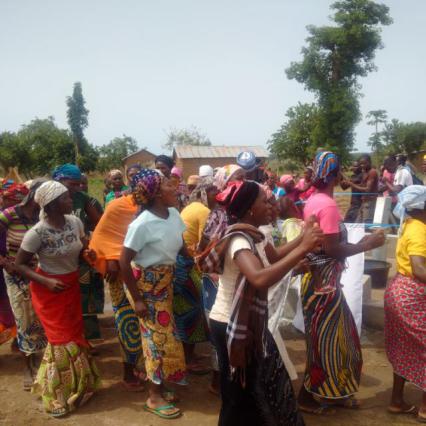 This follows a story by Water Journalists Africa that reported on the plight of this community pitting emphasis on the lack of access to clean water.
Prior to the borehole being dug in the community, their only source of water was a pond covered with dried leaves and dirt.
Commissioning the borehole at the village that is about 20 kilometres away from Kaduna city, the Army GOC said he was touched by the news report about their plight.
General Oyebade assured the villagers of the President Muhammadu Buhari led administration and other state governments' effort to ensure welfare of all Nigerians, adding that the Army, having recognised that government cannot do it alone, will always reach out to the needy.
"I read recently about your community that your major problem is lack of portable drinking water, so, I told myself that my heart will not be at peace until I give you water. So, I asked one of my officers to locate this place, so that I can give you borehole.
"I want to assure you that President Muhammadu Buhari led administration and the respective state governments are working tirelessly to ensure welfare of all Nigerians, but government cannot do everything for everybody, so we can always support the government.
"Also, the Army is not just about fighting war, we also assist the civil populace, because the Army under the Chief of Army Staff, Lt-General Tukur Buratai, is very friendly with the civil populace."
Responding on behalf of the community, the Village Head, Aliyu Bala, expressed appreciation to the GOC for giving the community life as he also appealed for more social amenities in the area.
By Mohammad Ibrahim