Residents of Igbologun Community, popularly known as Snake Island, in Amuwo Odofin Local Government Area of Lagos State, have cried out to government to provide them a functional hospital to check an alarming death rate there, especially among children and women of reproductive age.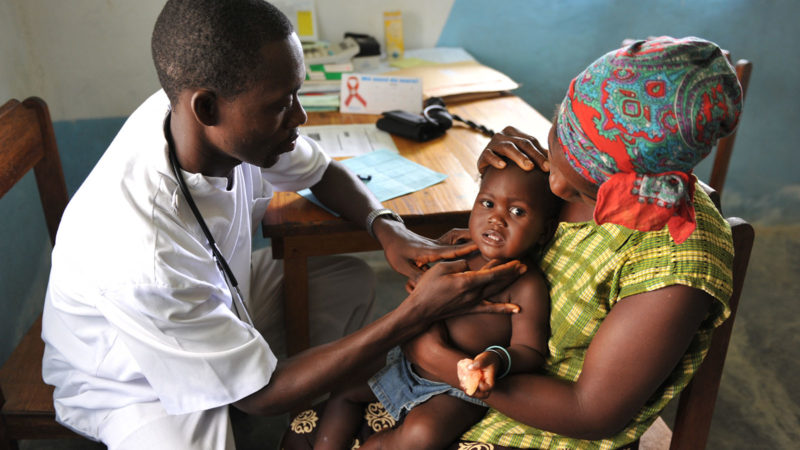 They made the call recently when journalists on an investigative trip visited the area.
Igbologun can only be accessed through water transportation, from Coconut end of the Tin Can Island area in Apapa. The boat trip on a bearing of about 250 degrees South West takes roughly nine minutes and, by trekking, another 21 minutes.
The growing population is as a result of the presence of a company, Nigerdock located in the community, which attracts job seekers to the area. The company has about six shipping companies operating under it.
The first image that attracts the visitor's attention while on shore is the sandy nature of the road, which makes it difficult for commercial motorcyclists conveying passengers to maneuver their way to residential areas in the community.
It was gathered that this situation is aggravated whenever there is heavy downpour, which give the roads a mud-spattered look. Coupled with this is the lack of drainage system to channel run-off water away from the road.
When translated, Igbologun, means Forest of Warriors.
Indeed, the name is a true reflection of its current state, as life in the island community which is said to be over 400 years old, came likened to one in the jungle.
According to Dr. Silas Wilson and Prince Ggenga Shosany, two of the few enlightened people there, due to neglect by government, about 36 communities in the different Island settlements in the state grapple with so many challenges, with lack of health care services on the top of the list.
"We lack government presence here. We do not even enjoy the dividends of democracy here in terms of health, water and electricity. We enjoy nothing in this community. Immediately after election, they forget the riverine areas.
"In the area of health care, it is zero here. Talk of government, it is absolutely zero. Few years ago, they gave us one health centre that serves about 13 communities, but no doctor and no nurse. Just two weeks ago, we lost a pregnant woman. She was in labour at night. Immediately she started bleeding, she was taken to the health centre. They said the nurse was coming. They waited till a whole night. And the woman bled to death just like that," they disclosed.
Looking around in Igbologun, one notices many tombs, which speak volume on the high mortality rate in the community with population in the region of 20,000 people.
Another striking thing is that most female inhabitants from adolescent age upwards were either pregnant or nursing a babies.
The government maternal centre inaugurated on 3 February, 1988 by the then military governor of Lagos State, Captain Mike Akhigbe, to provide services to pregnant women, appears to be in poor state with no facility, no doctor and no qualified nurse.
Residents said many of the women die with their pregnancies, while death rate especially among children is very high due to no effective health care services.
However, succour appeared to come the way of Igbologun people recently, when a medical doctor, Shodipo Gbolahan, moved with the passion to save lives established a hospital in the community.
But the private hospital which has treated thousands of people for free is facing hard times as it has virtually been converted into a charity home, because residents do not have money to pay after receiving treatment.
Dr. Gbolahan explains: "My coming here was a long story. Then, I was working in a very big hospital in Ajegunle and I was earning huge. There, I was fond of pregnant women. They were two of them that I was very close to because they were always looking good. Then one of the women died. I asked her friend what happened, she said it was in the middle of the night that the woman started bleeding and they could not come to the hospital. I asked why? You people could have called me to bring an ambulance. She said, ambulance could not reach the place. I asked, is there a place in this Lagos that ambulance cannot reach? I decided to go and see such a place. That was in September 2009.
"So that evening after work, I took a bike and asked for the address. They said Snake Island. I took a boat to Snake island and, around 3 pm, I reached the place. When I arrived, I was just looking around for a hospital. I walked round the whole community and there was not a single hospital. So, luckily, I asked for a health centre which is down there. I got there and found out that it was already closed. I asked why should a hospital close by 3pm? I then found out that it was a primary health centre, and what they do was only labour and things like that. After six months, I said, what if I go to the place and start a hospital? But I didn't know how to convince my wife. How could I tell her that I was not going to America or England, but to one local village? She was pregnant then. She was planning to go abroad to deliver. Immediately she left Nigeria, I just resigned and came to this place. I started with a two-room apartment. So, I put a notice, 'Qualified doctor around now, 24-hour service'. So, I started in one small room.
"My salary for that month, I used it to rent a room for one year. Then there was no bed. Soon, there was an emergency. I treated the guy, he got well. He was the one that started doing the advert. Within a month, people started coming. I thought to myself, I could turn this into a hospital. Then I got a bigger place and moved into this place.
"On the average we have 180 pregnant women annually. Their common issues are bleeding, some have eclampsia, some have obstructed labour. I charge for my service but, in many cases, they lacked the means to pay. For instance, you can see this woman with a convulsing baby, they came with no money. Should I say because they do not have money, they should go and die? No. I don't think it is the best."
Dr. Gbolahan said the reason for the high mortality rate especially among pregnant women is because the people had the mindset that hospitals are only for the rich, and as such took their wives and daughters to local birth attendants with no formal training.
Charity Felix was among the lucky pregnant women who survived the delivery process by the whiskers.
She was in a comma when she was rushed to the hospital after being in labour for more than a day at the place of a traditional birth attendant.
Charity and her baby were saved through a caesarian operation, but she is in tears because her unemployed husband has no money to pay the medical bill.
Her words: "I did not go to hospital because we had no money. To even eat two square meals a day is impossible. If not for this doctor, I would have been dead. My husband does not have work. Since two weeks, I have been here, my husband does not have one naira to give the doctor. God used this doctor to save my life. I do not have any other person; my mother left me 11 years ago. Before this, I had two children, one 10 years the other six years old. Things are too rough for us; we don't even have property to sell. Even to pay house rent, we cannot. I was not taking medication during pregnancy.
"I registered with Iya Ijaw, a local midwife. That night that I fell into labour, I had no food to eat. I was at Iya Ijaw's house. She was the one that brought me here because I was in comma. When the woman checked me, she said I will deliver through operation. My husband said he did not have any money for operation. But God used this doctor to save me. He did not even collect deposit. Even up till now, we have not given him any money."
While in the hospital, a two-year-old boy Pasca Kapo with serious convulsion was rushed to the hospital and, after examination, it was confirmed that his blood level had dropped to below 10 percent.
The boy's father, John Kapo, a 32-year-old unemployed who had divorced four wives and now living with the fifth one, said he lacked the means to pay his son's hospital bill.
"Some of our children die. When the child became sick, since there was no money, he was afraid of taking the child to the hospital. At a point, he took the child to a woman herbalist. The woman tried her best. After some days, she said she could no longer cure him, that we should take the child to the hospital. When we came here, doctor examined him and said the baby did not have blood again. He said the malaria has drained all his blood."
Mr. Kapo is said to have watched his previous children die without taking them to hospital because of financial issues.
Reacting, Dr. Gbolahan said transportation difficulty has led to countless deaths, because when emergency cases arose at odd hours, people could not easily take their sick ones to hospital.
"Most of the pregnant women register in Ajegunle, across the ocean. There are indeed good hospitals there. But when problems arise at night, they cannot get a boat to cross. Like Charity here, she was brought here around 2am. Sometimes, like people in remote Islands, they will be in labour throughout the night. By morning, the women are already weak and they die with the baby. Some of them are lucky; we manage to save the women, but their babies would have died."
On the part of the children, he said the most common ailment causing death is malaria, which is blamed on heavy mosquito attacks there. When it is untreated, the children become anemic like the case of little Pascal.
All the pregnant women interviewed said they did not go for anti-natal services because the maternal centre was not working.
Throughout the about five hours the team of journalists was in the community, no patient was seen at the government maternal centre.
A young woman seen at the hospital, who claimed to be an assistant nurse, said the midwife in-charge of the centre was not around for interview.
The Baale of Igbologun, Chief Amisu Alaso Gegeiyawo, seemed economical with the truth, apparently for fear of being sanctioned by state authorities.
One Chief Alawo, however, said he has been telling the authorities to provide them qualified doctor and nurse, as well as portable water and refuse disposal services, but that his plea seems to have fallen on deaf ears as nothing has been done.
It was observed that most of the women in Igbologun have many children in the belief that since there was no effective health care, many of the children could die and they still have some surviving.
Also, the ambition of most of the girls is to get married and make babies, with no thought about acquiring good education or learning skills.
Reacting, a Programme Officer of Development Communications (DevComs), Mrs. Biodun Owo, said if government cannot fund and equip its facilities, it should at least partner with the private health institution to save lives of the many pregnant women and their babies there.
"If government can help, maybe in donation of equipment to facilitate his job or by supplying commodities that he can be providing to the women at subsidised rates. Also individual and companies that have the means should come on board. You can see the roof of the health centre is falling off; they can help to refurbish the health centre. They can also donate commodities and equipment just to reduce the running cost for him."
We were told that at least 30 communities in the different Islands in Lagos including Igbologun, Ibeshe and Sagbokoji face very bad living conditions with no power, health care, and drinking water, while their entire physical environment is highly polluted.
Although the government in Lagos State is said to have been in the forefront of health care provision to pregnant women, the state's statistics in Child and Maternal Mortality is not an impressive one, with one in 40 women dying from pregnancy or delivery related causes in her life time, and just one in 15 children die before his or her 15th birthday.