Ontario has signed a joint declaration with Québec and Mexico, committing to working together to fight climate change.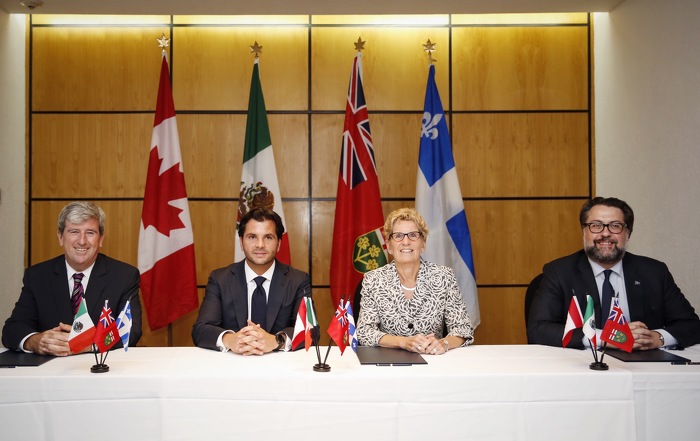 Ontario signed the agreement on Wednesday during Premier Kathleen Wynne's mission to Mexico. The agreement will drive progress on the common commitment to pricing carbon.
All parties are in Guadalajara, Mexico for the 2016 Climate Summit of the Americas.
The trilateral declaration establishes the foundation for sharing information and expertise on carbon markets and opportunities to reduce greenhouse gas pollution while driving innovation and supporting strong economic growth. International climate change agreements support the 2015 Paris Agreement signed at COP21 and help achieve regional, national and international greenhouse gas reduction targets.
Mexico recently announced that it will pilot a new carbon market starting in fall 2016. Ontario intends to link its cap and trade program to Québec and California's under the Western Climate Initiative, North America's largest carbon market. Ontario's cap and trade program will reduce greenhouse gas emissions, reward innovative companies and create more opportunities for investment and job creation, in particular in Ontario's leading cleantech sector.
Fighting climate change is part of the government's economic plan to build Ontario up and deliver on its number-one priority to grow the economy and create jobs. The four-part plan includes helping more people get and create the jobs of the future by expanding access to high-quality college and university education. The plan is making the largest infrastructure investment in hospitals, schools, roads, bridges and transit in Ontario's history and is investing in a low-carbon economy driven by innovative, high-growth, export-oriented businesses. The plan is also helping working Ontarians achieve a more secure retirement.
Kathleen Wynne, Premier of Ontario, said: "To effectively fight climate change, we must work together on a global scale. Mexico, Ontario and Québec are driving real progress on reducing harmful greenhouse gas emissions. This milestone declaration will boost cooperation between our three regions and drive the reduction of carbon emissions across North America. I look forward to working together on common goals including advancing carbon markets and cap and trade programs across North America."
Glen R. Murray, Ontario Minister of the Environment and Climate Change, stated: "Today, Ontario, Québec and Mexico took a major step forward together to change our world for the better. This new agreement reinforces cap and trade's vital role in fighting climate change. Like Mexico, regions around the world are recognizing that adopting a market-based approach to pricing carbon is a proven way to reduce greenhouse gas pollution while encouraging a stronger, more sustainable economy. Our province is proud to stand shoulder to shoulder with other leaders committed to ensuring our future generations inherit a healthier planet."
Facts
Ontario, Québec and the Mexican states Baja California and Jalisco were among the 23 signatories to the Climate Action Statement, signed at the first Climate Summit of the Americas in Toronto on July 9, 2015.
Ontario's action to eliminate coal-fired electricity is the single-largest climate change initiative in North America to date. Ontario is committed to reducing greenhouse gas emissions to 15 per cent below 1990 levels in 2020, 37 per cent below in 2030 and 80 per cent below in 2050.
Ontario's cap and trade programme, which is intended to link to Québec and California's in 2018, came into effect on July 1, 2016, with the first compliance period beginning on January 1, 2017.
Ontario's Climate Change Mitigation and Low-carbon Economy Act, passed in May 2016, establishes the foundation for the province's cap and trade program, which will begin in January 2017. The Act ensures the government invests the proceeds from cap and trade back into actions to reduce greenhouse gas emissions, creating jobs and helping people and businesses shift to a low-carbon economy.