The Nigerian Agricultural Quarantine Service (NAQS) has denied claim by the National Agency for Food and Drug Administration and Control (NAFDAC) that methyl bromide for crop pest control has been phased out.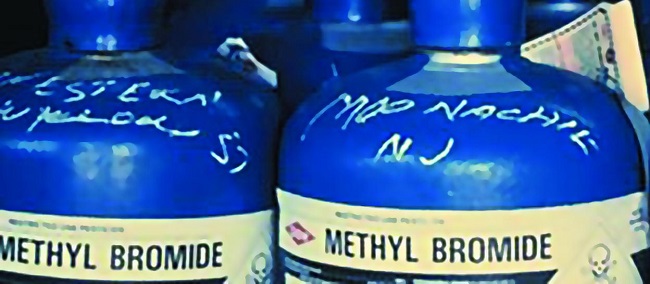 Dr Vincent Isegbe, Director-General of NAQS, in a statement on Tuesday, February 27, 2019 in Abuja said that the use of the agro-chemical, methyl bromide, was still permissible for controlled quarantine.
Methyl bromide is an odorless, colorless gas used to control a wide variety of pests in agriculture and shipping, including fungi, weeds, insects, nematodes (or roundworms), and rodents. Agricultural growers inject methyl bromide about two feet into the ground to sterilise the soil before crops are planted.
NAFDAC recently issued warning that the use of the agro-chemical for pest control had been banned.
"For the avoidance of doubt and in the interest of all stakeholders, we wish to state that the use of methyl bromide is allowed for controlled quarantine use due to lack of suitable alternatives.
''Especially where specific request for its use is made.
"The public may wish to note that NAFDAC regulates chemicals generally but their specific use in phytosanitary treatment is the statutory responsibility of NAQS.
"It is the NAQS responsibility as the National Plant Protection Organisation (NPPO) for Nigeria under the International Plant Protection Convention (IPPC) guidelines.
"Only NAQS can make a public pronouncement on the use of methyl bromide for phytosanitary treatment of agro-produce in Nigeria.
"For instance, Mexico as a nation specifically requests the use of methyl bromide in the treatment of Hibiscus shipments to their country.
"A trade that yielded over $35 million for Nigeria within nine months in 2017 alone.
"Furthermore, under the International Standard for Phytosanitary Measures (ISPM) 15, the use of methyl bromide for the treatment of solid wood packaging materials in international trade is allowed,'' he said.
The D-G said that all agro-chemicals were potentially harmful if not used safely, adding that the major concern regarding its use was its effect on climate change, specifically on the depletion of the ozone layer.
"Nonetheless, the Montreal Protocol provides exemption for individual countries on its usage based on special quota system.
He, however, advised the farmers that the healthy use of methyl bromide for control of agricultural pest remained permissible in Nigeria especially, for the export of Hibiscus to Mexico.
"Therefore, farmers of agricultural commodities, exporters, designated warehouse managers, the EU and the general public should note that NAQS will not permit the use of Methyl bromide indiscriminately.
"Any possible announcement of a change in the regime of the use of methyl bromide for agricultural pest control in the future will henceforth emanate from NAQS."
By Kudirat Musa