Director-General, Nigeria Hydrological Services Agency (NIHSA), Mr Clement Nze, on Monday, March 18, 2019 attributed recurring flash flood along Mararaba, Masaka area in Nasarawa State to failure to enforce town planning regulations.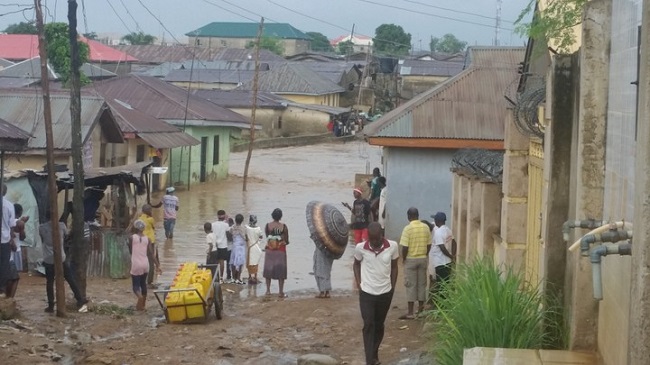 Nze made this known in an interview with the News Agency of Nigeria (NAN) in Abuja.
According to him, prohibiting erection of building on drainage channels, adequate drainage system and abstinence from dumping refuse in waterways will reduce the incidence of flash floods in Mararaba.
Mararaba and its environs have witnessed heavy rainfall three times since the beginning of the year which caused flash flood in the area.
According to him, flash flood comes unannounced and depending on intensity or how heavy the rain is and its duration.
The NIHS boss said that such rain could wreak a lot of havoc if there were not enough drainage channels to guide the volume of water.
He, therefore, advised the residents at flood plain areas to desist from dumping of rubbish into the water channels as this could also contribute to such development.
"Like what happened in Lugbe in FCT, Mararaba in Nasarawa State, is either there is inadequate drainage system, or the drains are blocked by human beings, what we called ''anthropogenic activities of man".
Nze stressed the need for governments at all levels to enforce town planning regulations to prohibit building on flood plains and forestall flood whenever it rained.
"Governments at all levels have role to play, don't allow the high and the mighty in the society to go and acquire lands at the places we called flood plains.
"These are the natural passage of water, don't go and acquire land there to avoid blocking the water channel.
"If you recall the action by the current Governor of Kaduna State Malam Nasir El-Rufai, when he was the Minister of Federal Capital Territory (FCT) around 2003.
"His action by pulling down so many structures have saved the FCT environment from flooding and I think this is what other government officials should also do, '' he advised.By Okon Okon