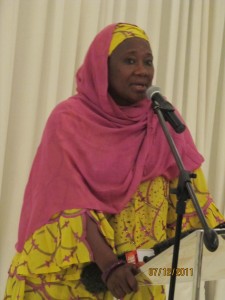 Nigeria's Minister of Environment, Hadiza Ibrahim Mailafia, has said that all Park Rangers in National Parks nationwide will be upgraded to paramilitary status.
She made the disclosure recently in Abuja during the inauguration of the Steering Committee on the Commercialisation of National Parks.
A paramilitary is a force whose function and organisation are similar to those of a professional military, but which is not considered part of a state's formal armed forces.
Welcoming the members of the committee, Mailafia explained that the establishment of the committee is an important milestone in the commercialisation process which began over a decade ago, when National Parks were listed on Section 6 (Part1) of the Privatisation and Commercialisation Act 28 of 1999.
She charged the committee to work assiduously within the terms of reference (TOR), which include: reviewing and updating any policies existing on forestry, wildlife and ecotourism; articulating fresh policies on the conservation and protection of National Parks; reviewing and updating the legal and regulatory frameworks governing the National Parks services; reviewing and agreeing on the role of the National Parks Services and other stakeholders within the framework of commercialisation, and subsequent introduction of Public Private Partnership (PPP) where viable in the National Parks; coordinating the interface between the National Parks Service, Park operators and other stakeholders in the unfolding partial commercialisation of the National Parks; and, ensuring the successful implementation of the partial commercialisation of the National Parks.
The minister noted that the membership, spread across relevant government agencies and non-governmental organisations (NGOs), was deliberately designed with a view to articulating a commercialisation framework that would ensure active participation of communities' stakeholders in the sustainable management of the parks.
She congratulated the members of the committee and pointed out that the tasks ahead are enormous, urging them to work consciously in tackling challenges like inadequate and poor infrastructure, land use conflict, low capacity and security that bedevil the parks.
The minister urged them to fashion out policies that would encourage biodiversity conservation which provides the main attraction in the national parks rather than concentrate all efforts on the commercialisation of the park.
She enjoined them to work hard to reposition National Parks to contribute substantially to the country's economy in line with transformational agenda of the President Goodluck Jonathan administration.
Earlier in her speech, the Director-General of Bureau for Public Enterprises (BPE), Bolanle Onagoruwa, expressed gratitude to the minister for inaugurating the steering committee that was constituted four years ago by the National Council on Privatisation