Residents of Lekki in Lagos on Friday, February 9, 2018 made good their threat to stage a protest over the  multiple hikes in tolls collected at two toll plazas in the area, the News Agency of Nigeria (NAN) reports.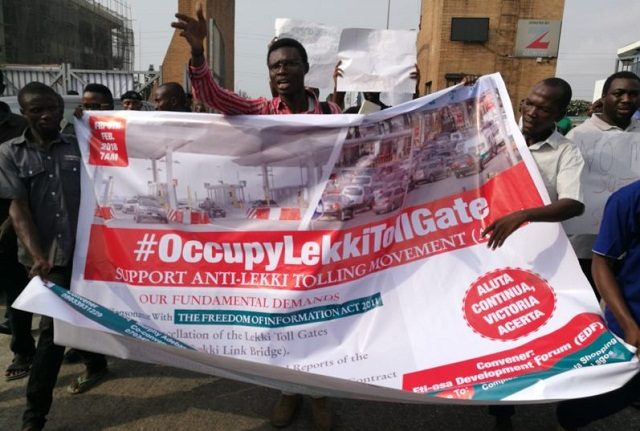 On Feb. 1, the Lekki Concession Company (LCC) effected a 100 per cent increase in some tolls collected at the Lagos-Ajah highway and the Lekki-Ikoyi bridge, jolting millions of residents.
Leading a peaceful protest, the convener of the protest, Mr Adedotun Hassan, described the toll hikes as unacceptable, unfair and killing.
He said it was unthinkable for a government to impose such a burden on hapless and poorly paid residents at a difficult moment like now, calling on the Lagos State Government to cancel the toll increases.
Hassan, who led a group known as Eti-Osa Development Forum, argued that imposing the toll on residents was inhuman and amounted to double taxation.
He argued that in a democracy, the residents ought to have been consulted before making such hikes, saying that the development would affect businesses in Lekki and its environs adversely.
"Residents are not happy with the situation. The increment is killing, that is why we are staging this protest.
"We want the government to cancel the tolls because we pay our taxes, the amount is too high, residents are being short-changed.
"We belong to the same Lagos State, ours is not different. Is it a crime to live in Lekki? What have we done to warrant this punishment?''
Another Lekki resident, Mr Murphy Adebare, lamented that life had not been the same for him since the new tolls came into effect.
He pleaded with Gov. Akinwunmi Ambode, to come to the rescue of the residents and show human face in his administration of Lagos State.
"How can an administration impose two toll gates within one Local Government Area in the state? This is the worst form of meanness.''
A cleric Mrs Ngozi Igbokwe, also called for the cancellation of the tolls, pointing out that no genuine reason had been advanced by the operators of the plazas.
"During rainy season you will pity the residents of this area because of flooding. Government has not done anything on this problem.
"Why would the same government allow its citizens to be devoured by greedy businessmen in the name of toll collection?''
On Feb. 1, the LCC rolled out a new toll regime at the Lagos-Ajah highway and the Lekki-Ikoyi Bridge.
Motorcycle riders are now to pay N100 instead of N50, while cars are to pay N200 instead of N120.
Sports utility vehicles are now to pay N300 instead of N150 while commercial buses now N100 instead of N80.
NAN reports that anti-riot policemen were deployed in large number at the toll plazas to prevent a breakdown of law and order during the protest.
An attempt by some people to disrupt the peaceful protest was immediately brought in check by security operatives.
By Kazeem Akande and Augusta Uchediunor