The COP 21 in Paris, France is an important Conference of Parties and there are many reasons for this.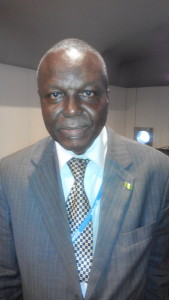 In New York on 10th February, 2015 on the sidelines of the UN General Assembly, experts and high level officials discussed specific ways to build mutually reinforcing processes on climate change and post-2015 development agenda.
The link between the two important United Nations meetings in September in New York to discuss the 17 issues in the new Sustainable Development Goals (SDGs) and Paris in December to agree on having a global agreement on emission reduction call for a more detailed understanding of the two.
Jeffrey Sachs, Director, Sustainable Development Solution Network (SDSN), who was a co-host of the event, said: "Sustainable development means the holistic combination of the economic advance, social inclusion and environmental sustainability, the greatest threat to which is climate change."
Therefore sustainable development and climate change are one and same. He further said that sustainable development is a more inclusive concept. The process culminating in Addis Abba, New York and Paris should be viewed as long, continuous, interconnected negotiation with the ultimate result of a new global framework for sustainable development.
"It is one agenda, we have to succeed," said Prof Sachs, who was of the view "that the Paris Climate Change Conference (COP21) is the world's final chance to cap warming at two degree Celsius – which is the last guardian against disaster."
There are different opinions about financing to meet the expectations of both the SDGs and the climate change. It is expected that climate financing should be secured at the Third International Conference on Financing for Development (FFD) in Addis Ababa because waiting for the outcome of the Paris Conference may mean panic.
The need to agree on net zero carbon by 2070, according to Prof. Jeffrey Sachs, is "not too complicated, it is just not too pleasant".
The $100 billion Green Climate Fund approved by the UNFCCC, according to a number of experts, must be linked to official financing of climate-related issues and not only markets. It is expected that the SDGs outcome must agree with the agreement in Paris in December.
There are views going round the globe that, for the SDGs to be effective and achieve the objectives, the 17 SDGs should be condensed into 12 goals without losing the substance. In this regard the agenda should be an educational and advocacy document that is simple to follow, implement and not a technocratic one.
In a recent contribution, Isabella Lovin, Minister for International Development Co-operation of Sweden, said that none of the SDGs can succeed if humanity does not seriously submit itself to address climate change. She argued that SDGs put climate in a larger context than the numbers and technical terms characterising UNFCCC negotiations and they explain why we must avoid dramatic climate change because we want a fair, inclusive, sustainable and dignified society.
Joe Colombano of the Executive Office of the UN Secretary-General on Climate Change is of the view that a key to greater coherence between the climate negotiations and post 2015 agenda is financing. He noted that the $100 billion Green Climate Fund is too small but it can be a good starting point to unlock the $90 trillion that will actually achieve the needed changes.
Pasztor went on further to priotise integrating climate change throughout the SDGs, saying that if all of the targets that directly or indirectly relate to climate change can be met, it will be a lot easier for climate negotiators to reach an agreement.
It is important to highlight that the two degrees Celsius cap leaves about 100 countries behind and the issue of loss and damage must be stressed especially as it relates to risk, disaster and other unexpected happenings.
The issue of SDGs and climate change must be properly addressed by governments' private sector and civil society. We must ensure that people understand that these issues are about them, their livelihood and existence.
We must invest in human capital development through education, capacity building, public awareness and hands-on training workshops. It is then we can be confident that we are on the way to make the world a better place and for greater number of people to be able face the challenges ahead.
The year 2015 is important for addressing global governance on climate change, environmental sustainability and sustainable development. We should all see that Nigeria and other developing countries unite to ensure they have the knowledge and expertise to play significant roles.
By Prince Lekan Fadina (Executive Director, Centre for Investment, Sustainable Development, Management and Environment (CISME). He is a member of the Nigeria Negotiation Team, Africa Group of Negotiators and member, AGN Finance Co-ordination Committee)