Legal experts from key international organisations, including the Commonwealth Secretariat, met for two days last week to develop a climate change legal toolkit to help countries carry out the Paris Agreement.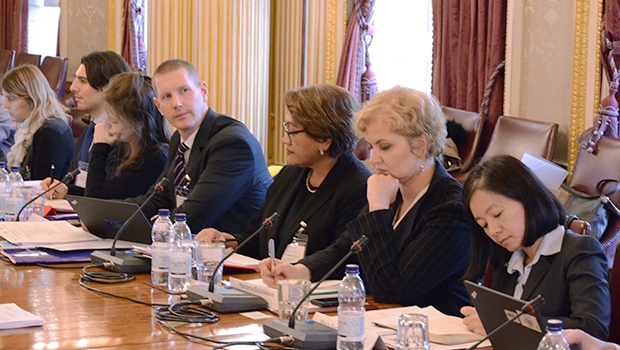 The two-day consultation held last Thursday and Friday (between 1 and 2 December, 2016) at the Commonwealth Secretariat's headquarters in London. Academics, think tanks and non-governmental organisations (NGOs) exchanged knowledge and pooled resources to explore how to best support the legal needs and priorities of countries for climate mitigation, adaptation and finance.
Partners included the Secretariat of the United Nations Framework Convention on Climate Change (UNFCCC) and UN Environment Programme (UNEP). Participants included representatives from six United Nations entities and the World Bank. The Paris Agreement was signed by 193 countries and aims to combat climate change and adapt to its effects.
Experts say achieving the global ambition of keeping temperature rises well below two degrees, and ideally to 1.5 degrees, will require rapid moves to zero and low emission solutions.The head of UN Environment's National Law Unit, Maria Manguiat, said, "With such an immense burden of responsibility now on countries to meet the climate change mitigation and adaptation commitments laid out in the Paris Agreement, this tool could prove indispensable to legal and regulatory efforts to keep global temperature rise below 1.5 degrees Celsius."
Countries say new or strengthened policy, regulations and legislation will be needed to make this happen.
Katalaina Sapolu, director of the Rule of Law Division at the Commonwealth Secretariat, said, "The Paris Agreement presents us with a clear and urgent need for a joined-up approach to supporting countries with putting in place the legal, regulatory, and governance architecture necessary for effective implementation. We aim to develop a law and climate change tool that can bring together all of our existing knowledge, as well as the latest evidence on 'what works' in national laws and regulations."
As governments take steps towards writing the Paris "rule book", a law and climate change toolkit is expected to facilitate country-driven responses. A resource of expertise and guidance for new legal frameworks will help in delivering on nationally determined contributions under the Paris Agreement. This can include measures in a wide range of laws, such as renewable energy, infrastructure, planning, and transport, as well as a range of adaptation and resilience measures.
Implementation through legislation provides legal certainty for sustainable climate action, said Ms Sapolu. "Climate change is a cross-cutting issue. Here, we have a cross-cutting team that is well placed to meet this immense challenge. The Commonwealth Secretariat is pleased to place its own resources at the disposal of this group."
Legal officer at UNFCCC, Marianna Bolshakova, said, "As the UNFCCC, we welcome such a collaborative effort of international organisations, including fellow UN agencies, coming together to provide a consistent response to the significant legal challenges that countries face as they begin implementation of the Paris Agreement."