A year ago, Professor of Botany and the former Executive Director of the Nigerian Conservation Foundation (NCF), Professor Emmanuel Obot, passed on. In memory of the late botanist, the NCF recently organised a Memorial Lecture and launching of his Orchids Centre which consist of his personal collections of plants (orchids, epiphyte and ferns).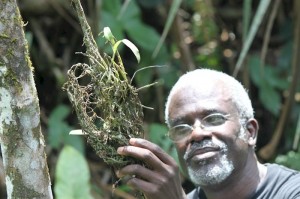 Acting Executive Director of the NCF, Alade Adeleke, said that the Foundation will do all it can to keep the memory of Professor Obot alive. "We will ever cherish his legacy, hard work and commitment to nature conservation. He remains ever in our mind. One of the ways of keeping his memory alive is setting up this Orchids Centre, which is a collection of Professor Obot's works."
Located within the Lekki Conservation Centre (LCC) facility, the Orchids Collection Centre will provide an opportunity for school children, guests and visitors to learn from the arrays of plant species and populate the mini arboretum with other identifiable species that can be sourced locally. Pocadots Ltd, the plant flower exhibitor within the LCC facility, has volunteered to assist in the future beautification and propagation of the species in the centre.
Obot's widow, Mrs Emma Obot, described her husband as a man who worked tirelessly and fearlessly to make life meaningful to all.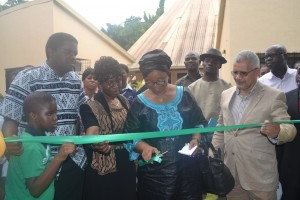 "His simplicity and hard work always amazed me. He talked less but communicated well to me and the children. He was simply passionate about what he did and it pushed me and the children to aspire to greater things," she said.
She expressed gratitude to NCF, saying: "This is what my husband has always loved to do. He was so passionate about these orchids. I know if he was alive he would have loved to see this."
A renowned orchid specialist with expertise in Geographical Information System (GIS) applications, Obot was former Chairman, BirdLife's Council for the Africa Partnership (CAP); Co-Chair, IUCN Commission on Environmental Economic and Social Policy (CEESP); Member, IUCN Working Group on Extractive Industry and Biodiversity (WGEIB); and Member, IUCN Orchid Survival Group.
Obot's impeccable biological research ability and effort earned him honours citation in the rare butterfly subspecies – Acraea oreas oboti – named after him.
According to NCF officials, he worked for over 30 years in design and implementation of demonstration projects to elucidate strategies for environmentally-sustainable community based development processes that guaranteed access rights and secure land tenure to local people as well as development and application of participatory renewable natural resources management tools with local people living around protected areas in Nigeria.
"He led the NCF team to facilitate the development of Natural Resource Management Plans and Sustainable Community Development strategies for targeted communities in the Niger Delta region towards the promotion of a paradigm shift among Niger Delta Communities and Governments from oil and gas to sustainable management of renewable natural resources towards poverty reduction through the realisation of the trade value of biodiversity," said Alade.