Governor of Osun State, Ogbeni Rauf Aregbesola, has assured investors and residents in the state of speedy processing of Certificates of Occupancy (C-of-Os) to legitimately acquired property within 90 days of commencement of processing.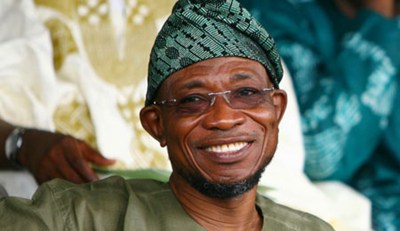 The governor stated this recently at the presentation of a N50 million cheque in support of Osun Certificate of Occupancy Fast track project (OCOFO) by Sterling Bank PLC at the Banquet Hall of the Government House, Osogbo, the state capital.
Aregbesola commended the bank for its partnership with the state, noting that the support from Sterling Bank will go a long way in strengthening the resolve of his administration to fast track the issuance of C-of-Os in the state.
He added that, with the OCOFO project, the 90 days of getting a C-of-O for legitimately acquired property would be made possible as opposed to the old regime where it may take eternity to obtain the document.
The governor called on investors, residents and citizens of the state to take the opportunity of the new C-of-O regime and get titles for their landed property within the stipulated 90 days.
Aregbesola assured Sterling Bank that the state would account for every Naira the bank has given to support the scheme, saying the relationship shall be a win-win situation.
He said, "I want to use the occasion to call on our people to take this opportunity to have title for their property, a land gets value because of its title.
"A government title on a land is the only way you can identify your property. We have put up this scheme to fast track the issuance of your Certificate of Occupancy like never before.
"With the scheme, you should rest assure that your title will be ready after 90 days of the commencement of the procedure."
He highlighted some of the areas in which the bank has partnered with government such as support for the on-going construction of Oba Adesoji Aderemi Road, building of some schools and providing backbone for the school feeding system.
He added that support for his government by the bank is a support for the people of the state as well as for a turnaround of the economic situation of the state.
Speaking earlier, the Regional Director of Sterling Bank Plc, Mr. Ademola Adeyemi, said the bank is living up to its promise of supporting the state to give people the dividend of democracy.
He stated that the bank, out of promise, to support the state to succeed has increased the support to the OCOFO project from the initial sum of N20million to the present N50 million.
According to Adeyemi, "What we are doing today is as a result of the promise of our bank to this state at inception, we have promised and living to our promise to partner with the government to give dividend of democracy to our people.
"We are willing to help the state considering the relationship that we have with the present government that we approached our management to increase the grant from N20 million and we are here today to present a cheque of N50 million for the scheme."