The Lagos State Commissioner of Health, Prof. Akin Abayomi, has disclosed that the state government, with the health ministry as anchor ministry, in partnership with other ministries, agencies and development partners have perfected plans to launch the Lagos State OneHealth Strategic plan.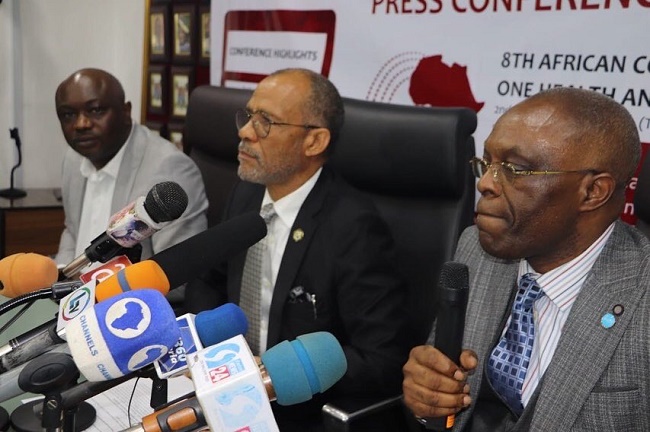 Prof Abayomi made the disclosure on Wednesday, October 19, 2022, at a press briefing to announce the partnership between the Lagos State Government and GET Consortium towards hosting of the 8th Annual GET Conference on OneHealth and BioSecurity.
The conference is the premium event in Africa on OneHealth and BioSecurity and in its 8th iteration, has already become the go-to platform for impact developing discourse, said Dr Ayodotun Bobadoye, the chief operating officer of GET Consortium.
"This conference has been organised in Ghana, Senegal, even in Abuja but in the last four years has been almost a fixture in Lagos.
"There's no better time to organise a conference such as this with the various challenges occasioned by Covid-19, which is still not fully tackled; the ongoing Ebola outbreak in Uganda with other threats such as lassa fever and monkeypox just waiting to explode," said Bobadoye.
He added: "It's now obvious that the biggest threats to security and humanity are biological threats and it behoves us to come together to explore the various expertise and research, locally and globally, to find appropriate strategies to address how we can effectively combat these biological threats, not just in Nigeria but in Africa; and also find ways of mitigating against them."
This, according to Prof. Abayomi, is one of the reasons for the OneHealth Strategy. This strategy is a collaborative effort towards building a partnership that can lend expertise to prevent climate and biological shocks even before they occur and at the same time a strategic action plan to combat pandemic emergencies when they occur.
Prof. Abayomi, who is the deputy incident commander for Covid-19 responses, stated that the successes against Covid-19 were achieved due to the strategies and expertise put in place by previous administrations in Lagos State, which provided an experienced foundation to build upon against the pandemic.
He, however, reiterated that Lagosians and indeed Nigeria were not out of the woods yet as some were still testing positive to Covid-19 and other pandemics are in the wings waiting to show themselves.
Stating that Lagos is very vulnerable to climate and pandemic shocks, especially pathogens of high consequence, the commissioner stated that for any government to experience sustainable economic growth, the government must take biological safety seriously.
With multiple entry and exit points, a low agricultural base, one-third of the state composed of water bodies and burgeoning population of almost 30 million residents, Lagos has no choice but to import food for its teeming population; and this ensures that Lagos remains vulnerable and there are multiple opportunities for pathogens to come in and spread.
And this is why the World Health Organisation is very much interested in the GET conference on OneHealth and BioSecurity.
Present at the briefing was the WHO Representative to Nigeria, Dr Walter Kazadi Mulombo, who reiterated that this conference was critical for gathering expertise to address pandemic emergencies and that Lagos was especially proficient to provide the backdrop for these discussions.
Dr Mulombo revealed that the biggest threat is still out there, specifically pointing out that anti-microbial resistant (AMR) pathogens, which are basically pathogens that are resistant to medicine, could become almost a recurrent occurrence if proactive measures are not put in place.
The health expert stated that OneHealth is like an interface and consists of human health, animal health and the environment. He listed four critical measures that the WHO is encouraging as counter measures to handle pandemic emergencies.
These include:
Collaborative surveillance which seeks to build partnerships of experts watching out
Community protection, which seeks to enable community awareness and involvement in combating pandemic emergencies
Clinical care and investing in research to find solutions
Combating vaccine injustice, where communities and individuals have access to medicines and appropriate support.
Speaking about the need to develop collaborative capacity, Mulombo disclosed that the WHO had developed three flagship programmes as part of the emergency preparedness and response strategy to combat pandemic emergencies within the shortest time possible.
The three flagship projects are Promoting Resilience of Systems for Emergencies (PROSE), Transforming African Surveillance Systems (TASS) and Strengthening and Utilising Response Groups for Emergencies (SURGE).
Dr Mulombo said that he is excited about the possibilities from the forthcoming GET conference and the WHO is especially invested in partnering with the Lagos State Government and the GET Consortium on the conference.
To be held for over three days from October 26 to 28, the theme of this year's conference is "Strengthening health security and mitigating biological threats in Africa". The conference shall play host to over 400 participants from over nine countries and counting.