WaterAid Nigeria on Wednesday, October 19, 2022, called for more investment in safe drinking water and toilet facilities to forestall disease outbreaks, following continued reports of flooding in the country.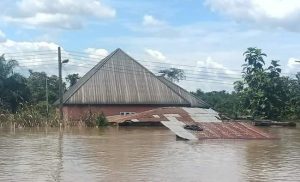 The international NGO in a statement said that, with devastations from flooding in past weeks, there was an increased risk of disease outbreaks.
The statement quoted Abu Jibril, Acting Country Director of the organisation, as saying that healthy communities needed the basics of shelter, food, safe drinking water and well-managed toilets.
"The flooding has increased the risks for communities in flood-prone regions, in a country where an estimated 38 million people are still forced to defecate in the open.
"When the water comes like it has now, washing away human waste, it raises the risk of disease outbreaks that could further cost lives and impoverish citizens.
"We need to act fast to avoid these outbreaks, people who have been forced from their homes need food and shelter, but they also need access to safe water, sanitation and hygiene,'' Jibril said.
He said with displaced people forced to live in camps where access to safe water and good sanitation was further compromised, women and children were most vulnerable and worst affected.
While commending the Nigerian government's campaign to stop open defecation, Jibril said there was need for international governments and donors to ensure build communities' resilience to changing climate circumstances.
"With climate change upon us, many people in Nigeria are already living on the frontline of the crisis – and it is likely to get worse,'' he said.