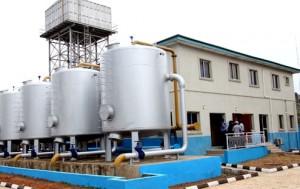 The Lagos State Water Corporation (LSWC) on Monday said it spent over N4 billion yearly to run its operations of providing potable water to houses in the state.
The Group Managing Director of (LSWC), Mr Shayo Holloway, who made the disclosure in an interview with the News Agency of Nigeria (NAN) in Lagos, said that making water potable was expensive.
According to him, if you imagine what goes into producing water, it is painful to see water leakages all over, especially with the corporation's flat billing system because the property are not metered.
"That is why we want to meter property so that everybody will feel the need to conserve water.
"A lot of money is being wasted through water wastage and we are doing everything to correct that.
"We are working with the private sector in ensuring massive reduction in water wastage in the state.
"We have started installing meters in homes. As at today, we have installed about 4, 000 meters comprising 3, 000 in Ikeja and 1, 000 in Lekki and we are installing more.
"Our long term goal is to have every home metered,'' he said.
According to him, metering allows the consumer to know what he is consuming and to pay for water consumed.
Holloway said metering would reduce wastage as a lot of water was being lost within houses from leaking tanks and Water Closets that people did not border to quickly rectify.
"But when there is a meter it will read all those leakages and that will make people to be more proactive towards addressing leakages within their households.
"So, what that means is that we will then have more water available for more people.
"They meters are working and will work even more in multi-tenement buildings," he said.
Holloway said that because each property was supplied by one service connection, that service connection would be metered.
He said that it was for the occupants of multi-tenement buildings to resolve how they would pay for water consumed. (NAN)