In the aftermath of the forced eviction of over 30,000 persons from Otodo Gbame community in Lagos on 9-10 November 2016, evictees have suffered a series of violent attacks by hoodlums reportedly working for those who are intent on grabbing their land.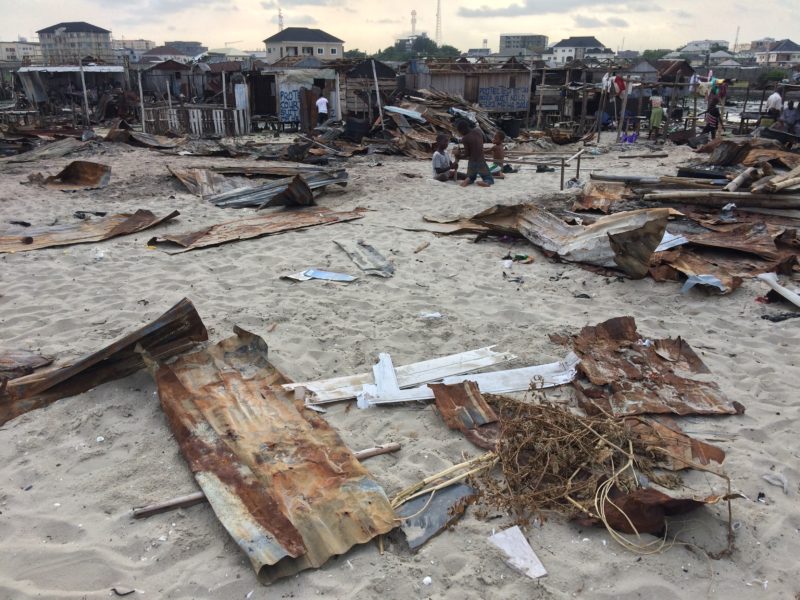 The first such attack reportedly took place on 22-23 November 2016 shortly after a visit to the community by a member of an influential royal family, police, and hoodlums who allegedly set the three remaining houses ablaze.
The Justice & Empowerment Initiatives (JEI), a non-governmental organisation (NGO), which made the disclosure in a statement issued on Monday, 05 December 2016, stressed that it documented over a dozen evictees from Otodo Gbame with machete, knife and gunshot wounds from the first attack on the morning of Wednesday, 23 November 2016.
According to JEI, the second violence took place on the morning of Wednesday, 30 November 2016 when hoodlums attacking the community were accompanied by men in Mobile Police uniforms and a chief from the neighboring Itedo community who is reportedly loyal to the royal family. Several persons were wounded, according to JEI documentation, and the community was left in terror.
"On Thursday, 24 November 2016, following the first violent attack, evictees from Otodo Gbame joined the Nigerian Slum / Informal Settlement Federation in petitioning the Assistant Inspector General of Police (AIG) at the Zone II Command, Onikan, requesting police protection for the community to prevent further attacks. Although the AIG issued written directives to the Lagos State Police Command to protect the community, sufficient police protection is yet to be seen on ground," the group disclosed.
During a visit to Otodo Gbame on Saturday, 3 December 2016, the NGO stated that it confirmed reports that dozens of hoodlums still loiter around what was once the main entrance to Otodo Gbame, taunting and menacing evictees who pass on their way to school, to work, or to the nearby market.
"We remain deeply concerned about the continued harassment and violent attacks against Otodo Gbame evictees, who are struggling to rebuild their lives left in disarray after the mass forced eviction," JEI declared, pointing out that it is nevertheless heartened by the ongoing investigation into the violence against Otodo Gbame community by a Federal Special Anti-Robbery Squad (Federal SARS) unit from Abuja.
It added: "The arrests on Thursday, 1 December of two members of the influential royal family in connection with the attacks on Otodo Gbame have brought some peace of mind to the beseiged community.
"JEI therefore urges the Inspector-General of Police, Deputy Inspector-General for Investigation & Intelligence, and the CP Federal SARS to ensure this investigation continues – without regard to powerful forces that have scuttled investigations into other Lagos land grabs – so that those responsible for attacks on Otodo Gbame are finally brought to book."