The Lagos State Government says it has completed the rehabilitation of 28 out of the 60 identified roundabouts within two years of Gov. Babajide Sanwo-Olu's administration.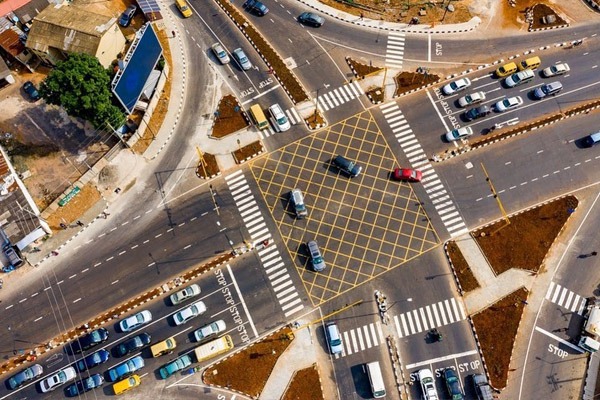 The Commissioner for Transportation, Dr Frederic Oladeinde, said this on Tuesday, April 27, 2021 in Ikeja, during the Ministerial Briefing to mark the two-year tenure of the present government.
Olasehinde said that the roundabouts were rehabilitated to reduce traffic congestion in the state.
He said that rehabilitation of 22 junctions were ongoing while 10 junctions were at concept stage for improvement.
The commissioner said that the government had acquired 31 hectares of land for the Bola Ahmed Tinubu truck park in collaboration with the Management of the Nigerian Ports Authority (NPA).
He said that government had set up Apapa Special Traffic Management and Compliance Enforcement Team to be headed by Toying Fayinka, Special Adviser to the Governor on Transportation, to restore sanity and socio-economic prosperity to Apapa and environs.
Oladeinde said that the truck park would be handed over to concessioner after completion for effective reduction of traffic along Apapa-Wharf corridor.
"Efficient Traffic Management and Transportation has remained crucial to achieving success in the T.H.E.M.E.S. Six pillar development agenda of the administration of Mr Babajide Sanwo-Olu.
"To achieve a safe, reliable, effective and efficient Integrated Multi-Modal Transportation System for an emerging Smart City of over 22 million people, it is expected that a lot of reforms in the transport sector will be required to meet up with some emerging challenges.
"This is why priority is being accorded to the renewal of transportation infrastructure presently at various stages of completion across the state.
"From the take-off of this administration two years ago, May 2019 to May 2021, the Lagos State Government has added the following to its scorecard in the transport sector according to the mandate of the Ministry.
"Reduction of traffic congestion by resolving key gridlock points and maintenance of all road infrastructure, furniture and signalisation all year round.
"Decongestion of traffic by connecting more communities with new link roads and bridges and provision of intelligent transport systems to optimize the transport network," he said.
Oladeinde said that the government had completed of the ongoing strategic transport projects (rail, water, road).
He said that government had accelerated and implemented Multi-Modal Transport System, which integrated rail, eater and road modes as specified in the Lagos State Strategic Transport Master Plan.
The commissioner said that the ministry had also increased the number of Computerised Vehicle Inspection Centre from 10 to 17, where adequate roadworthy exercises were conducted.
He said that the ministry had also completed over 100 kilometres of road to improve road safety and enforce road discipline.
Oladeinde said that the state had also completed the construction of Bus Rapid Transit at Oyingbo terminal, while number of regulated routes had increased from seven to over 60.
He said that the Lagos State Government had also procured 300 buses for the First and Last Mile Buses (FMLM) initiative for redeployment of the first phase, which would be launched in May.
The commissioner said that the state had secured funds to complete Blue Line Rail Mass from Mile 2 to Marina which had reached 93 per cent completion.
He said that the ministry had been able to construct and rehabilitate 16 jetties terminals across the state.
Oladeinde, however, said that above listed reforms were to promote integrated transport system that would give options to citizens and improve seamless movement of goods and persons.
By Aisha Cole and Florence Onuegbu