Observed high mercury levels in dental clinics may have prompted the Lagos State Government to take up a campaign to phase down dental amalgam, which scientists say is injurious to health and the environment.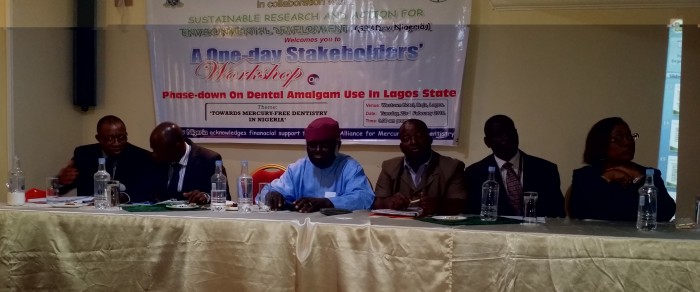 In applying the Minamata Convention on amalgam provisions to Nigeria, the state's Ministry of the Environment (MoE) is collaborating with the Sustainable Research and Action for Environmental Development (SRADev Nigeria) and the USA-based World Alliance for Mercury-Free Dentistry (WAMFD) to curb the use of amalgam, a pollutant which is 50% mercury.
At a daylong stakeholder workshop on Phasing Down Dental Amalgam Use with the theme: "Towards Mercury-Free Dentistry in Nigeria", officials representing organisations such as SRADev Nigeria, WAMFD, MoE, Nigerian Dental Association, Federal Ministry of Health, NAFDAC and the Federal Ministry of Environment set in motion processes to ensure that Lagos blazes the trail in moving in the direction of modern mercury-free dentistry.
In a welcome address, Executive Director of SRADev Nigeria, Leslie Adogame, described mercury as one of the world's most ubiquitous heavy metal neuro-toxicant.
"It is a toxic substance of global concern that causes significant harm to human health, wildlife and ecosystems. Once in the body, mercury acts as a neurotoxin, interfering with the brain and nervous system. Exposure to mercury can be particularly hazardous for pregnant women, especially lactating mothers who expose their children to mercury during breast feeding," he said.
According to him, the United Nations Environment Programme (UNEP) and World Health Organisation (WHO) have acknowledged the dangers posed by the product such that global efforts to address the development culminated in the establishment of an Intergovernmental Negotiating Committee to prepare a global legally binding instrument on mercury which came to effect in October 2013. Nigeria is a signatory to the convention named as Mercury Treaty (or Minamata Convention).
The Convention requires each participating nation "to phase down the use of dental amalgam" and perhaps ultimately phasing it out and switching to mercury-free alternatives.
"Throughout the Minamata Convention negotiations which took place from June 2010 until October 2013, the African Region through Nigerian delegates led the movement to get the strong dental amalgam reduction mandate into the Minamata Convention. At the crucial Pretoria regional consultation, the African Region boldly adopted a plan for dental amalgam – the phase-down steps – that was subsequently enshrined into the treaty. Therefore, it is only necessary that Nigeria sets the pace in the implementation of this Convention in the region," he said.
"There is very limited awareness of mercury in medicines and generally in healthcare sector in Nigeria and yet the dangerous poison is causing a lot of health problems unknown to the public," he said, lamenting that while the health care sector around the world is moving to replace mercury-based medical devices with affordable, accurate and safer alternatives, the Nigerian government is yet to take any serious policy initiative in this direction.
The WAMFD president, Charles Brown, while acknowledging the role of the African region towards making the Convention a reality, opined that ratifying the treaty is a "great" opportunity for Nigeria to lead, even though four other African nations (Gabon, Guinea, Djibouti and Seychelles) are already Parties to the Convention.
"We want to leapfrog past the amalgam stage to mercury-free dentistry. There are really no opposing views to the Convention in Nigeria, we are simply experiencing institutional delay, and I'm positive that that will be resolved shortly and it will be ratified," said Brown.
Dr O.A. Ijarogbe, President, Nigerian Dental Association (NDA), disclosed that mercury is a hazardous substance that can be absorbed through the skin, by ingestion or inhaling the vapour. According to him, chronic mercury poisoning is difficult to identify, even as it is characterised by tiredness, fatigue and lethargy.
"Damage to foetus in pregnant women undergoing mercury fillings have been reported and mercury is implicated in common brain and kidney diseases," added Dr Ijarogbe, listing severe symptoms to include excessive salivation, metallic taste and slurred speech.
Consultant Restorative Dentist, Lagos State University Teaching Hospital, Dr Adolphous Loto, stressed that the phase-down of the use of dental amalgam in restorative dentistry requires a coordinated holistic and multi-sectorial approach by stakeholders.
While describing the phase-down as an acceptable option as opposed to outright ban on dental amalgam, he added that it is feasible and desirable, and that it should be given a national attention.
"A National Strategic Plan (NSP) should be developed and implemented in order to meet the deadline or time-line at which amalgam should cease to be used as a restorative material in dentistry in compliance with the provisions of the Minamata Treaty or Convention," stated Dr Loto.
Dr Idris Adamu Goji, Deputy Director, Department of Pollution Control and Environmental Health, Federal Ministry of Environment, stated that, as a follow-up to the signing of the convention, processes are on-going process to ratify the Minamata Convention on Mercury in the country.
Besides forging a partnership with UNITAR to implement a project on Ratification and Early Implementation of the Minamata Convention on Mercury, government will also collaborate with GEF and UNIDO to implement the project on "Minamata Convention Initial Assessment in Nigeria".
He added: "There should also be collaboration with relevant stakeholders and NGOs to sensitise health institutions on the need to phase down/phase out dental amalgam."