"Massive plunder" of the world's fisheries is "destroying entire fishing communities", Kofi Annan said on Thursday in Geneva, Switzerland at the launch of a new global initiative aimed at stemming illegal fishing.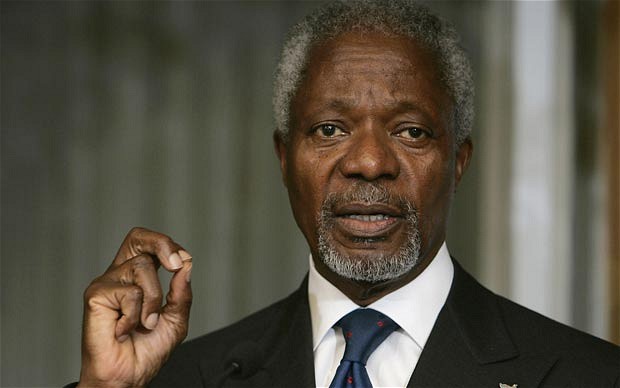 In a video message to the first International Conference of the Fisheries Transparency Initiative (FiTI), Mr Annan, the chair of the Africa Progress Panel, welcomed the initiative and underlined the importance of "global collective action" to halt shadowy practices in ocean fishing across the globe.
The Fisheries Transparency Initiative is a high-level response to calls by the Africa Progress Panel and other influential voices for greater impetus to be given to tackle illegal, unregulated and unreported fishing, which Mr. Annan says has reached "epidemic proportions" in Africa. The initiative aims to increase political will and international cooperation to improve the governance, transparency and accountability of the fisheries sector.
The 2014 Africa Progress Report, Grain, Fish, Money: Financing Africa's Green and Blue Revolutions found that Africa is losing billions due to illegal fishing. West Africa alone is estimated to lose at least US$1.3 billion a year.
This activity by trawlers from all over the world operating in African waters, is according to Mr. Annan, "organised theft disguised as commerce" that "demands a strong, long-term international effort" to combat it.
Fisheries are among the most vital resources on the planet. The ocean off West Africa is one of the world's richest fishing grounds, providing as much as a quarter of West Africans with their livelihoods.
The Africa Progress Panel calls for a multilateral fisheries regime that applies sanctions to fishing vessels that do not register and report their catches.
It also calls on governments around to world to ratify the Port State Measures Agreement, a treaty that seeks to thwart the poachers in port from unloading their ill-gotten gains.
The Panel also recommends regulatory reforms including processes to make fishing permits more transparent.
Above all, Mr Annan says, international coordination is essential: "This challenge is far greater than any single country can handle effectively on its own. It is also much more than just a problem for Africa. Global collective action is especially needed to nurture transparency and accountability. Better fisheries management could increase the global catch by 20 percent, bringing more jobs, better food and nutrition security, and more social and political stability too".