A month after a tropical cyclone devastated parts of Mozambique, another is headed towards the southern African country, the UN said on Wednesday.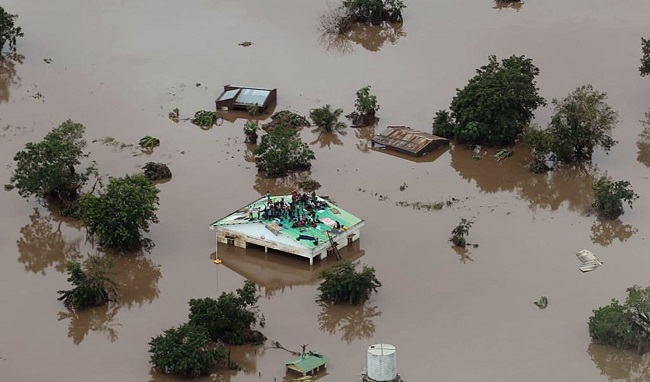 Tropical Cyclone Kenneth is expected to impact the Comoros islands on Wednesday and make landfall in Mozambique on Thursday, April 25, 2019 the Office for the Coordination of Humanitarian Affairs (OCHA) said.
A cyclone in March, named Idai, caused massive flooding, killing hundreds of people and displacing thousands.
"There is significant risk of flash and river flooding where heavy rainfall occurs. Winds are likely to be strong enough to cause destruction," the OCHA statement said.
"In Mozambique, the National Directorate of Water Resources has recommended that people living in areas at risk of flooding and landslides move to safe elevated areas," OCHA added.
General-Director of Institute of Disaster Management (INGC), Augusta Maita, said it would be a challenge in terms of humanitarian assistance, so the institute proposed an air bridge in case it is necessary.
Maita, who said this at a news conference, added that the government had declared an alert and that "all measures will be implemented to save lives."
"We will make sure that people are evacuated today, even if it means forced evacuation," she added.
Evacuation helicopters and boats being used in Beira – as part of relief efforts for Cyclone Idai – will be relocated to Cabo Delgado, she said.
Tanzania and Malawi could also experience increased rainfall.
"We are especially concerned about (Cyclone Kenneth's) possible impact in Mozambique where communities are still recovering from the devastation of Cyclone Idai," Fatoumata Nafo-Traore, regional director for Africa for the International Federation of Red Cross and Red Crescent Societies (IFRC), said in a statement.
Meanwhile, the government of Mozambique had also declared red alert for the northern region, particularly the provinces of Nampula and Cabo Delgado over the imminent cyclone Kenneth expected to make landfall later on Wednesday.
The alert was issued by the Disaster Management Coordination Council in its extraordinary session chaired by the Prime Minister, Carlos de-Rosario, where more than 692,000 people were estimated at risk by the National Institute of Disaster Management (INGC).
Mozambique National Meteorology Institute (INAM) said the cyclone was intensifying and would reach the level of tropical cyclone Category 3 in the afternoon of Wednesday.
"Its route is towards the coast of Cabo Delgado where the epicenter will be on the continental part of Palma district at the end of Thursday.
"Currently, the cyclone is 150 km from the Cabo Delgado coast and is moving at a speed of 25 kilometers an hour," said the Director of INAM, Aderito Aramuge.
Authorities and international society are especially concerned about the cyclone's possible impact in the region where communities are still recovering from the devastation of Cyclone Idai. Idai affected at least 1.8 million people across Mozambique, Zimbabwe and Malawi, leaving nearly 1,000 killed.