The climate change activist group Extinction Rebellion says it plans to end its London protests on Thursday, April 25, 2019 after 11 days of disruption to traffic by thousands of protesters.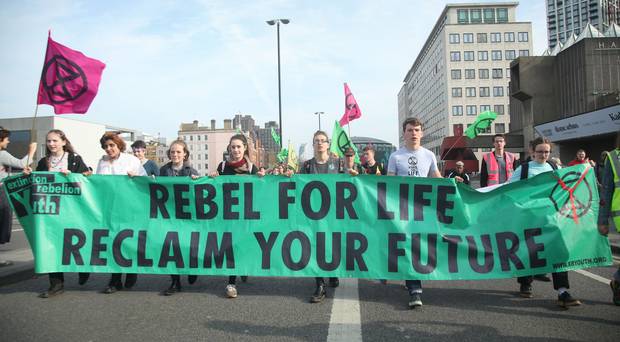 The protesters blocked several major roads in the British capital.
"We will leave the physical locations, but a space for truth-telling has been opened up in the world," the group said in a statement.
"The truth is out, the real work is about to begin," Extinction Rebellion said, warning people to "expect more actions very soon."
London's Metropolitan Police said on Tuesday that officers had detained more than 1,000 people since the protests began on April 15.
Most were released without charge, but more than 70 protesters were charged with breaching the public order and other offences, the force said.
The group urged Britain and other nations to enact legally binding policy measures to reduce carbon emissions to net zero by 2025 and set up a national citizen's assembly to oversee changes in environmental policy.
One of the group's campaign slogans echoes renowned broadcaster and wildlife presenter David Attenborough's warning to a UN climate change summit in December.
"If we don't take action, the collapse of our civilisations and the extinction of much of the natural world is on the horizon," Attenborough said.
Extinction Rebellion also known as XR was launched in 2018 by several environmental groups.