The governor of Kebbi State, Sen. Abubakar Bagudo, has charged the 100 trainees of the National Agency for Science and Engineering Infrastructure (NASENI) Skill Acquisition Training and Youth Empowerment to become billionaires through agriculture.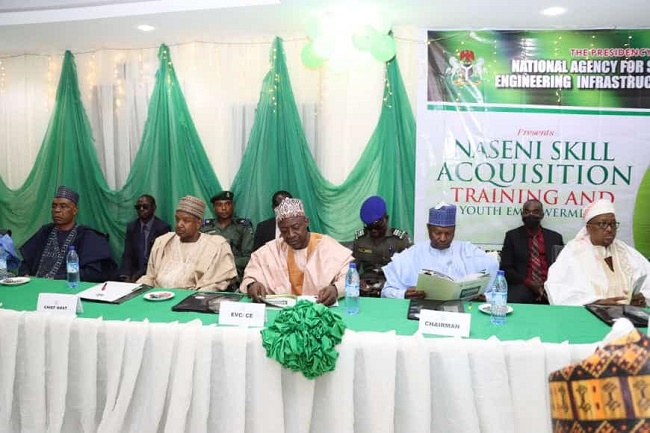 He made the call at the opening ceremony of the skills acquisition training themed "Modern farming methods using improved farming implements in Kebbi State" on Monday, August 15, 2022, in Birnin Kebbi, the state capital.
The five-day training programme, which runs from August 15 to 19, marked the flag-off of the nationwide skills acquisition training for youths in the six-geopolitical zones of Nigeria with a target of 100 trainees in each zone.
"We are actually very lucky in Nigeria because other countries are facing food shortages, but we are not. Yes, we might be experiencing higher prices, but it is an invitation to our youths, those young men and women who want to be billionaires. What higher prices tell you is that there are opportunities. Be the billionaires you want to be. Produce, don't buy. Sell.
"So, to the trainees here, please, make it an objective today that you are determined to be billionaires out of agriculture. That you are determined to make success out of this training. How do you achieve that? By being humble. Don't assume you know what you don't. Make sure you understand. From today ask yourself how someone around the world has become a billionaire out of agriculture.
"The more you interrogate yourselves, the more you ask questions during this training that will prepare you for that future. That is what we pray for you to achieve so that you will serve as an example to others," he charged.
Bagudo, who underscored President Muhammadu Buhari's belief that Nigeria's economy can be transformed through agriculture, stressed that it can only happen if the right attention is paid to agriculture, which he described as "science".
He said: "We can only transform the nation through agriculture when we do the right thing (by) fund(ing) and support(ing) agriculture adequately and, most importantly, putting science and engineering into agriculture adequately.
"That we are here today as part of a training programme by NASENI encapsulates all of that. Today we are here to appreciate that agriculture is science. The seed we put underground is science. If you don't know it, understand it or use the correct one you get nothing. How you farm, plant, process, use technology is all science and engineering. The less you do, the less outcome you get.
"So, over the last seven years we have seen an increase in yield, output because of this belief that President Muhammadu Buhari has planted in Nigerians to believe in themselves, the institutions and ensure that our best brains are going into where the problems are. Today, NASENI an institution that hosts our best brains is, among other things, helping us to ensure we do much better and quicker in agriculture. I believe we will because, as I said, agriculture is science," he added.
Earlier, in his welcome remarks, the executive vice chairman of NASENI, Prof. Mohammed Haruna, explained that President Muhammadu Buhari has approved the skills acquisition training in all the geopolitical zones of the country.
According to him, each train is appropriate to the areas of operation and economic activities of the zone. In the North-West zone, Kebbi, known for its farming, is the core target for its training.
"The technologies we are bringing and teaching and ensuring that the farmers have the implement and all they need as a startup pack to operate successfully include equipment for cultivation, weeding, plantation, processing and all other post-harvest activities, including food preservation to guarantee exportation of the food product.
"But, in order to consolidate and sustain the success achieved by the Buhari administration in agriculture, the president has approved six zonal agricultural equipment and machinery development institutes for each of the six geopolitical zone. The one for the northwest is approved to be located in Kebbi State. In addition, a skill development centre is equally approved for this state," he said.
The NASENI boss posited that impact of modern farming techniques and mechanised farming technology cannot be overemphasised.
"We have said over and over again that we cannot continue in this age to use animal power or to continue using hard labour in what should be very attractive activity or exercise in improve food production.
"We cannot continue to do everything manually, including processing and hard labour with consequent output of low crop yield in one farming season limited to a year, instead of multi-crop production. NASENI has, therefore, with the approval and directive of President Muhammadu Buhari, acquired skill-acquiring technologies from Czech Republic and Jordan to domesticate, enhance and improve yields, as well as guaranteed food security," he stated.
Haruna added that the training is, thus, in line with expanding and guaranteeing sustainability of the success already achieved by this administration in agricultural development and technology.
He urged the 100 participants (who are practicing farmers carefully selected from all the 21 LGAs of the state) to pay close attention during the trainings and to go back home and use the technology acquired to teach others for the benefit of the nation.
In his remarks, the Minister of Justice and Attorney General of the Federation, Abubakar Malami (SAN), said the training would provide the requisite support and direction towards achieving the objectives of the Buhari's administration in skills development, youth empowerment and agricultural revolution as well as food security in the country.
"I understand from the organisers that this training aims at addressing issues regarding unemployment, reduction of youth restiveness, youth empowerment for self-sustenance agriculture development, food security and overall national development," Malami said.
In his remarks, the All Progressives Congress (APC) governorship candidate, Dr. Nasiru Idris, posited that agriculture has the capacity to help in poverty reduction and value addition that relates to other sectors of the economy.
"Nigeria's promise for a better future lies in agriculture and our youths must form the bedrock of that promise. This training, I believe, is a deliberate effort to entice our youths to embrace agriculture. There is no doubt that agriculture is the largest contributor to our nation's gross domestic product and remains the bedrock of our economy. It must be encouraged, promoted, supported to take prime position in our economy. We have accepted that our economy can be best driven by our youths.
"With Kebbi State as one of the best producers of rice, maize, millet and wheat in the country, training our youths on how to use improved farming implements will definitely help to boost our economy through enhanced productivity," he added.
In his remarks, the vice chancellor, Usam Danfodiyo University, Sokoto, Prof. Lawal Bilbis, lauded NASENI for being Nigeria's springboard for industrial revolution.
"If Nigeria is to develop into the next industrial revolution, NASENI will be the springboard for that. NASENI reminds us of China and India that needed springboards like NASENI to spearhead its development," he stated.
Speaking on behalf of the participants, Ashiru Adamu thanked President Buhari, NASENI and the Kebbi State Government for the privilege to be trained in modern farming methods.
"The farming system that the president is focusing on is very germane because food security is a topical and important subject. A hungry nation is an angry nation.
"This training will help us farm what we will utilise across the country and also have the ability to export our products," he added.